Regular price
$799.00 USD
Regular price
$1,099.00 USD
Sale price
$799.00 USD
Unit price
per
Sale
Sold out
The Airwheel SE3miniT electric travel case scooter features powerful motor wheels that offer a convenient and effortless way to travel. It's an ideal option for those who easily tire and need an efficient mobility solution. This user-friendly scooter has an intelligent joystick that makes it easy to operate, with just two handles for acceleration, braking, and reversing.
SIZE & DETAILS

⦁ Product size: 385 x 250 x 575 mm

⦁ Size: 20 inches (international cabin carry-on size)

⦁ Volume: 26 Liter

⦁ Weight: 7.5 kg

⦁ Max. load: 100 kg

⦁ Motor load: 37V/250W

⦁ Max. speed: 8 km/h

⦁ Battery capacity: 73.26Wh

⦁ Material: German imported PC film + Taiwan's Chi Mei ABS
Share
View full details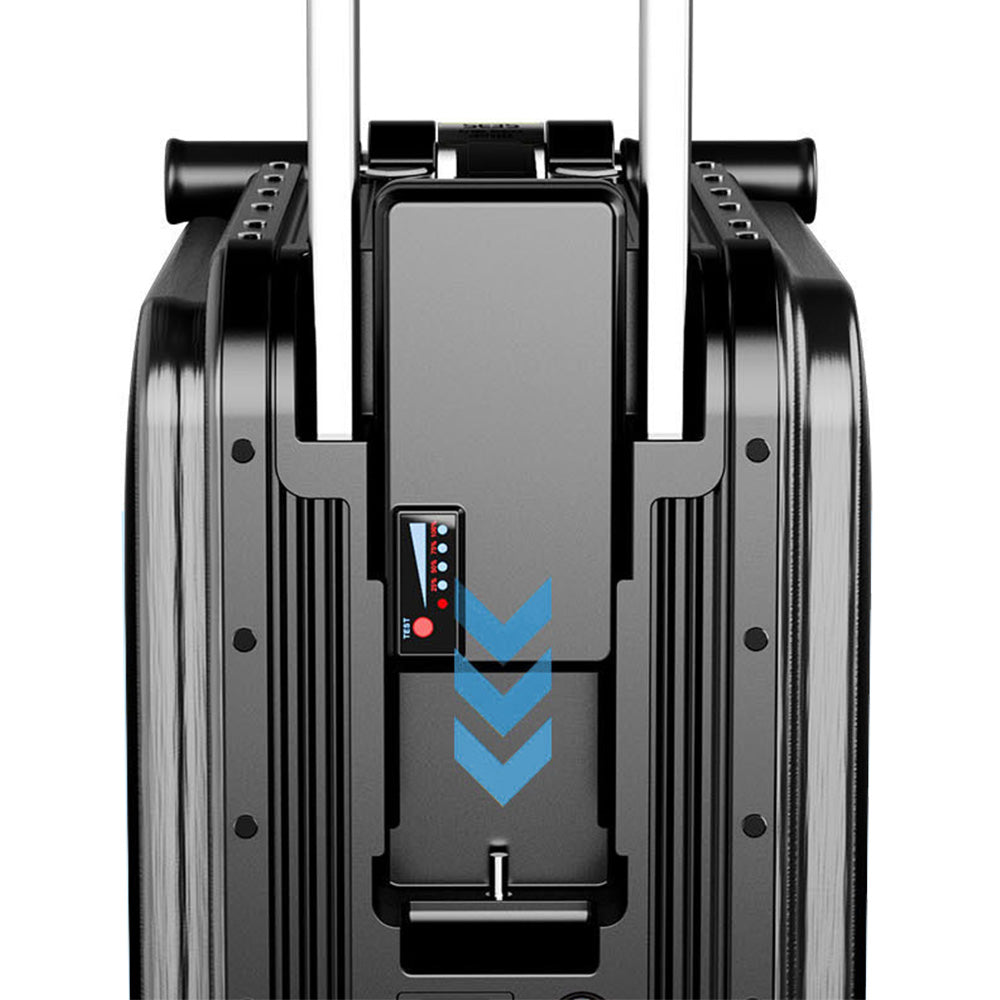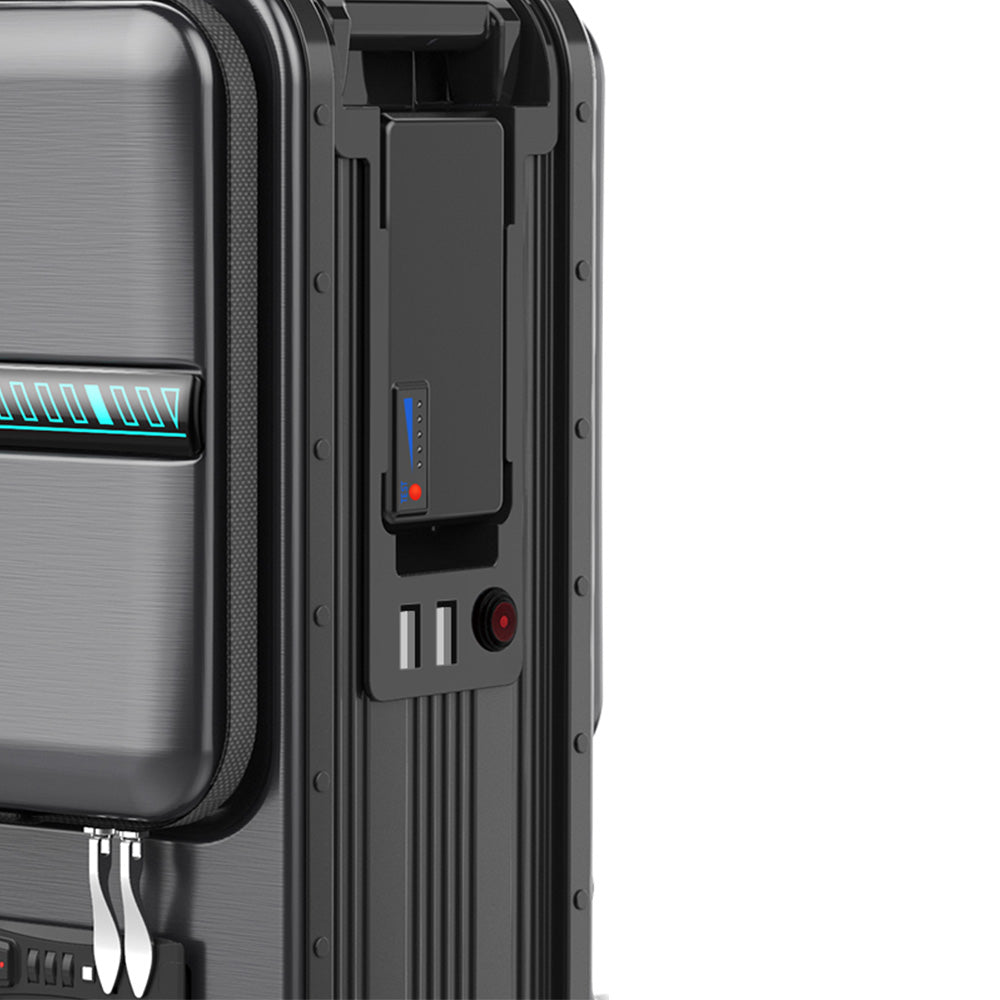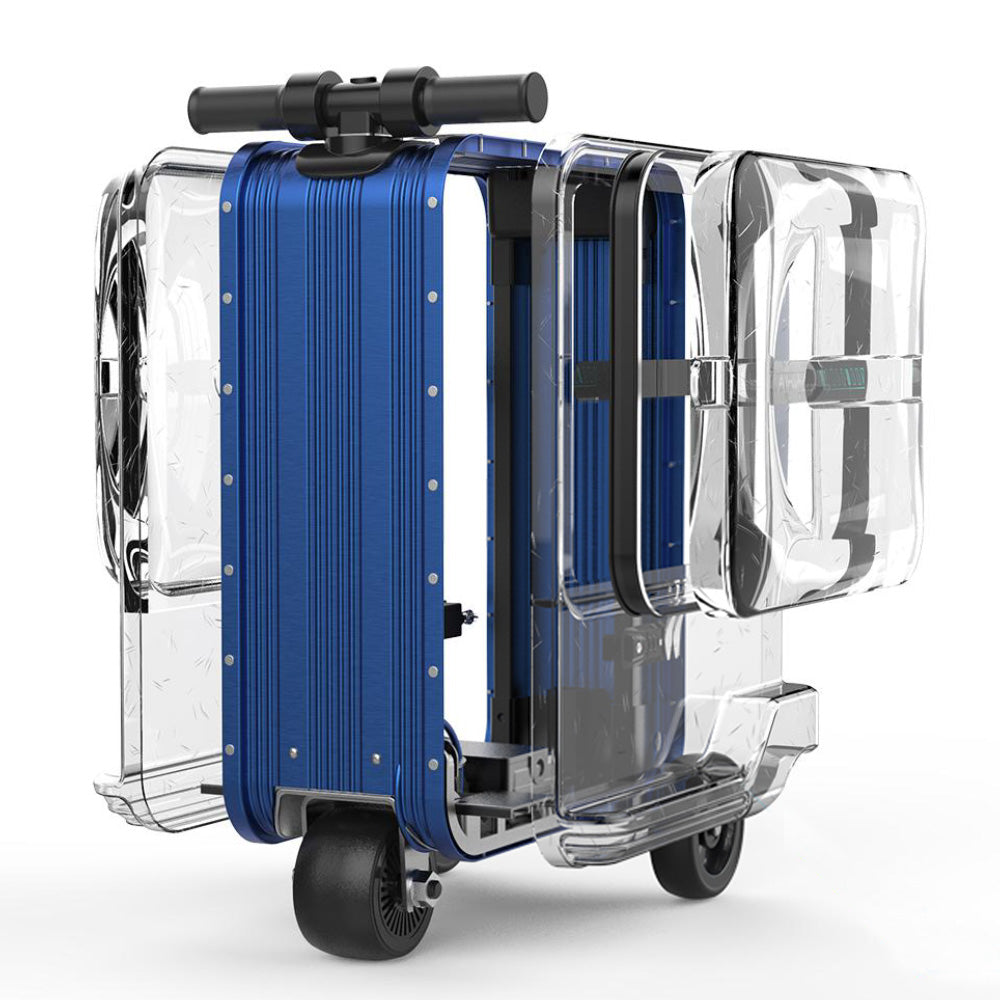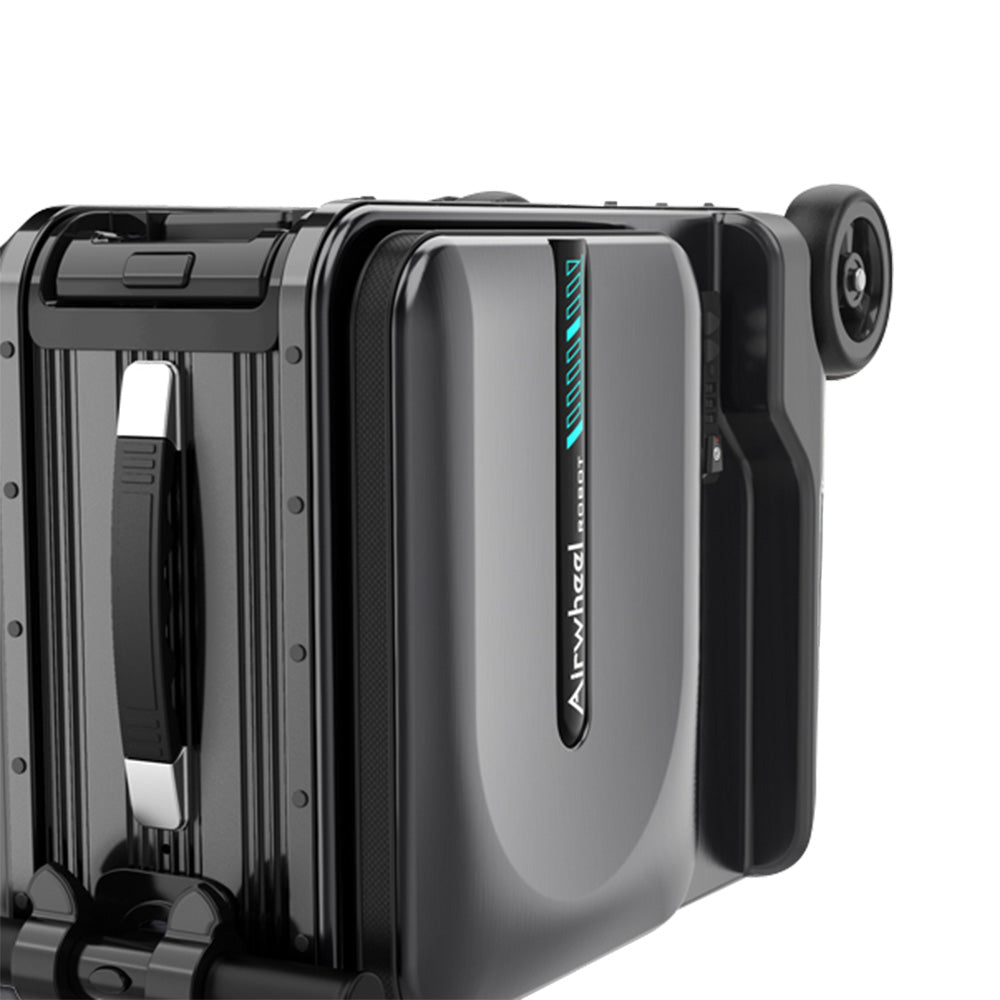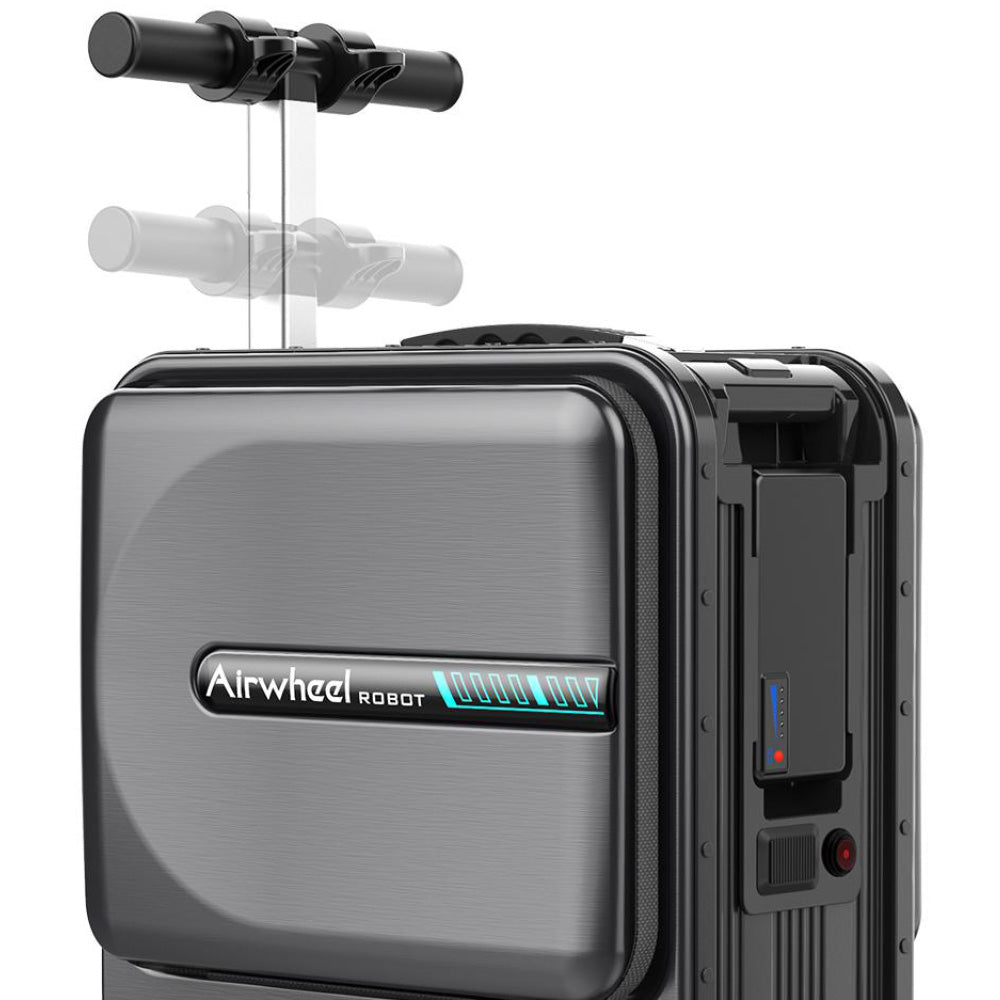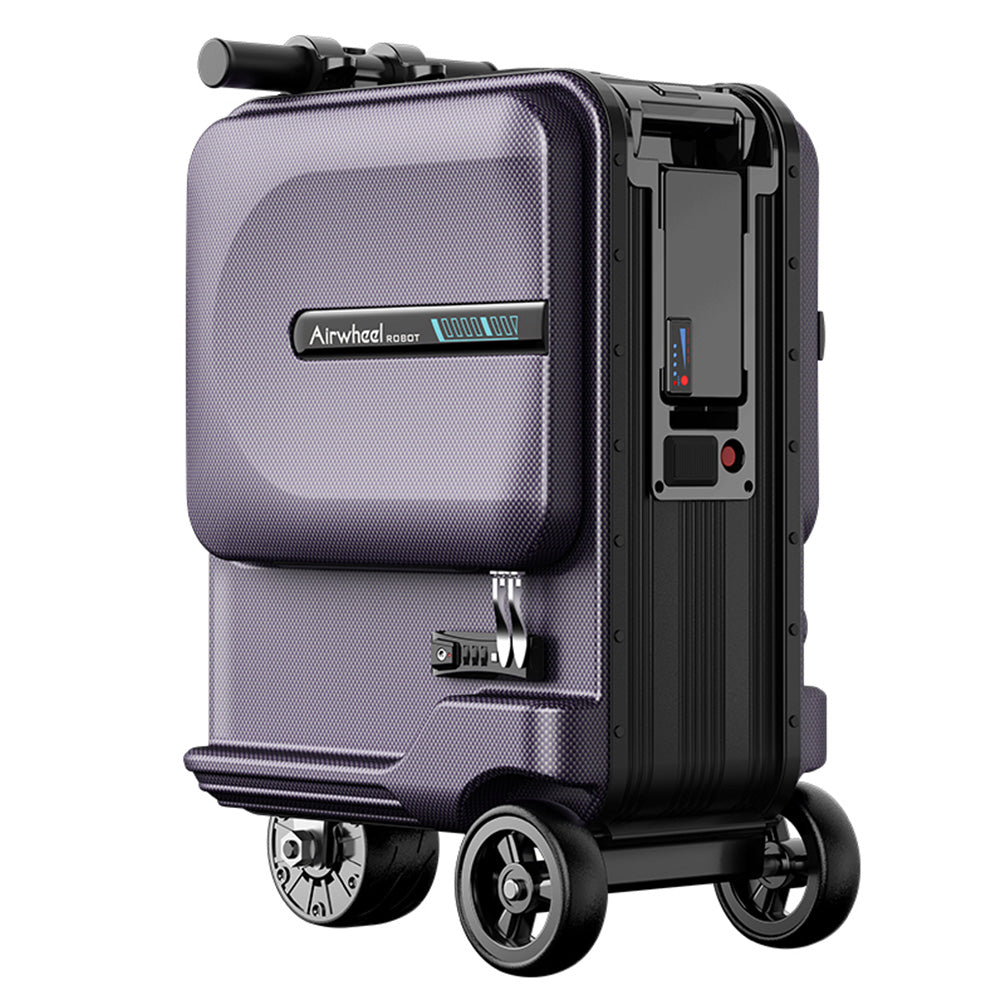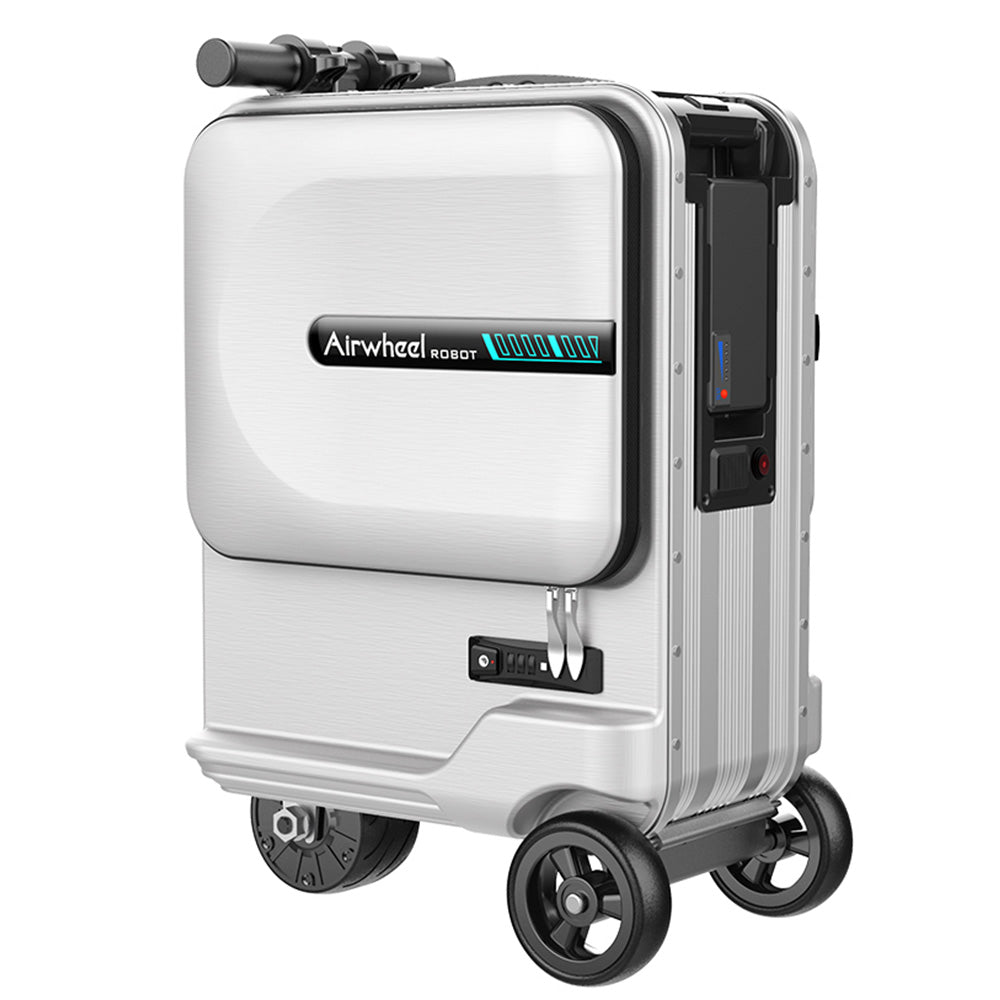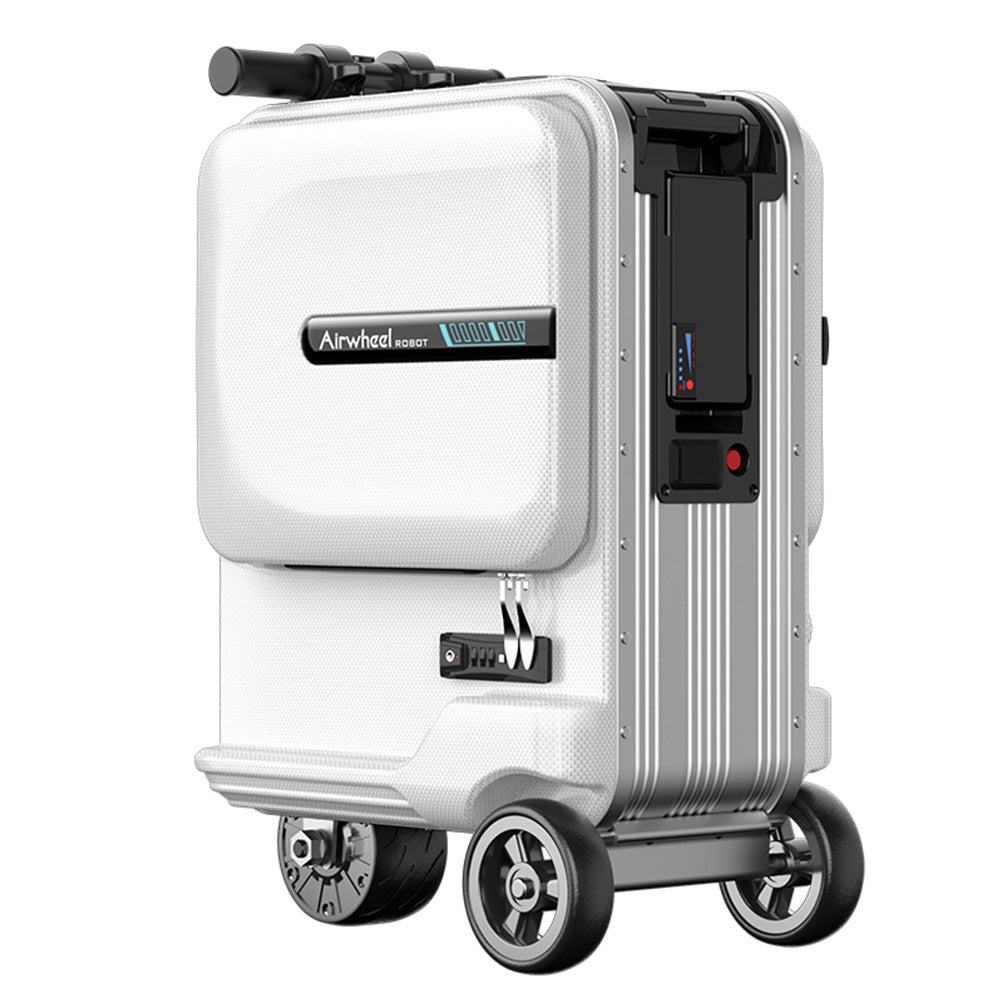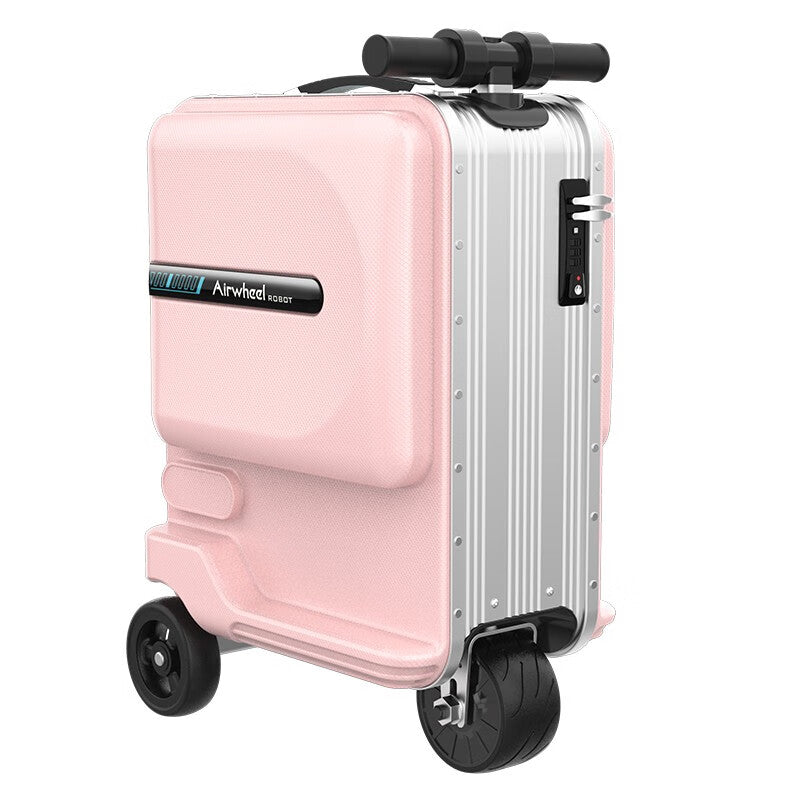 Airwheel smart riding suitcase SE3Mini T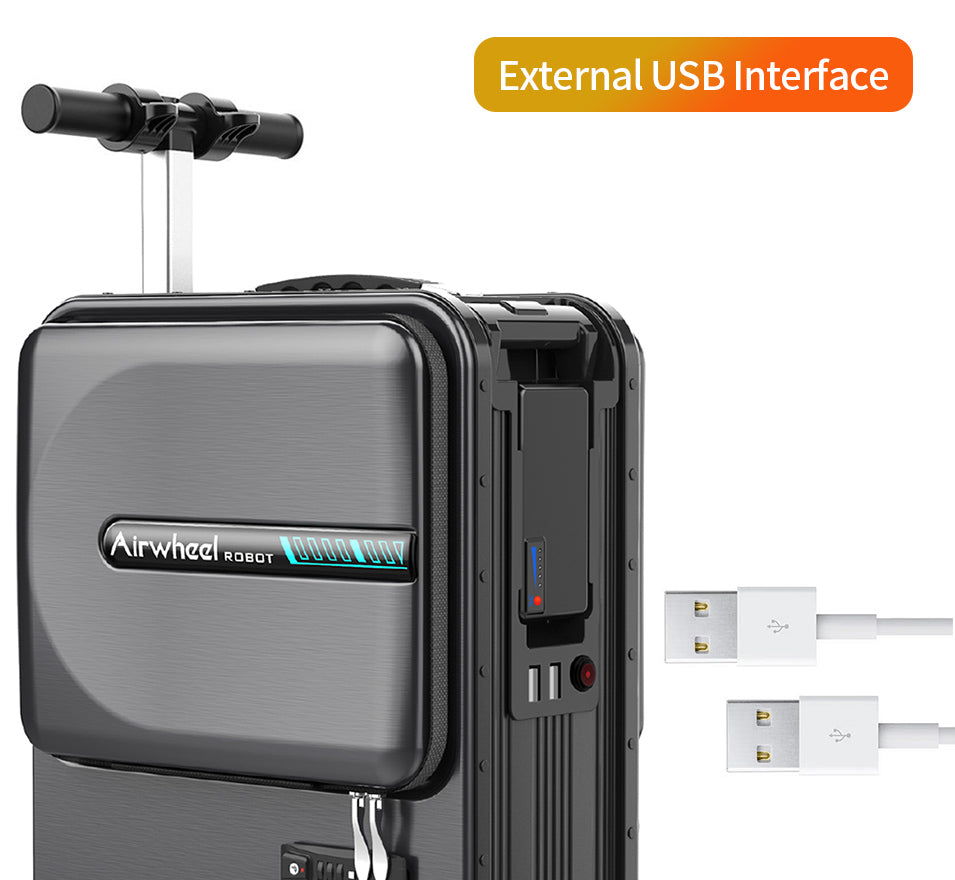 Keeps your devices charged on the go
SE3 mini T is equipped with dual USB ports that are directly connected to the battery, allowing you to charge your devices on the go without the need to frantically search for a charging station. This convenient feature is particularly beneficial for those who are always on the move and need to keep their devices fully charged at all times. Whether you're traveling for work or leisure, SE3 mini T has got you covered.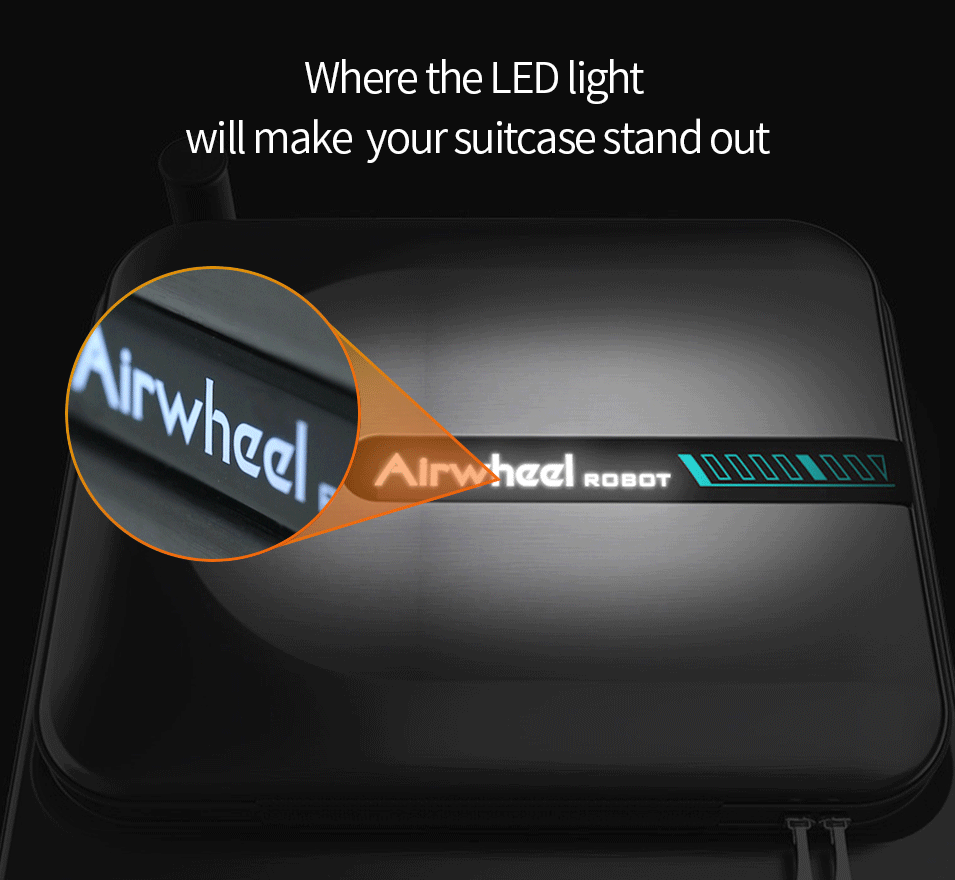 Say Goodbye to Lost Luggage with Intelligent Sensor LED
Are you tired of struggling to identify your suitcase among a sea of similar luggage? The SE3 mini T is here to help, with its intelligent sensor LED that can quickly and easily distinguish your luggage from the rest. This feature is particularly helpful in low-light environments, where the LED light will make your suitcase stand out, saving you time and hassle.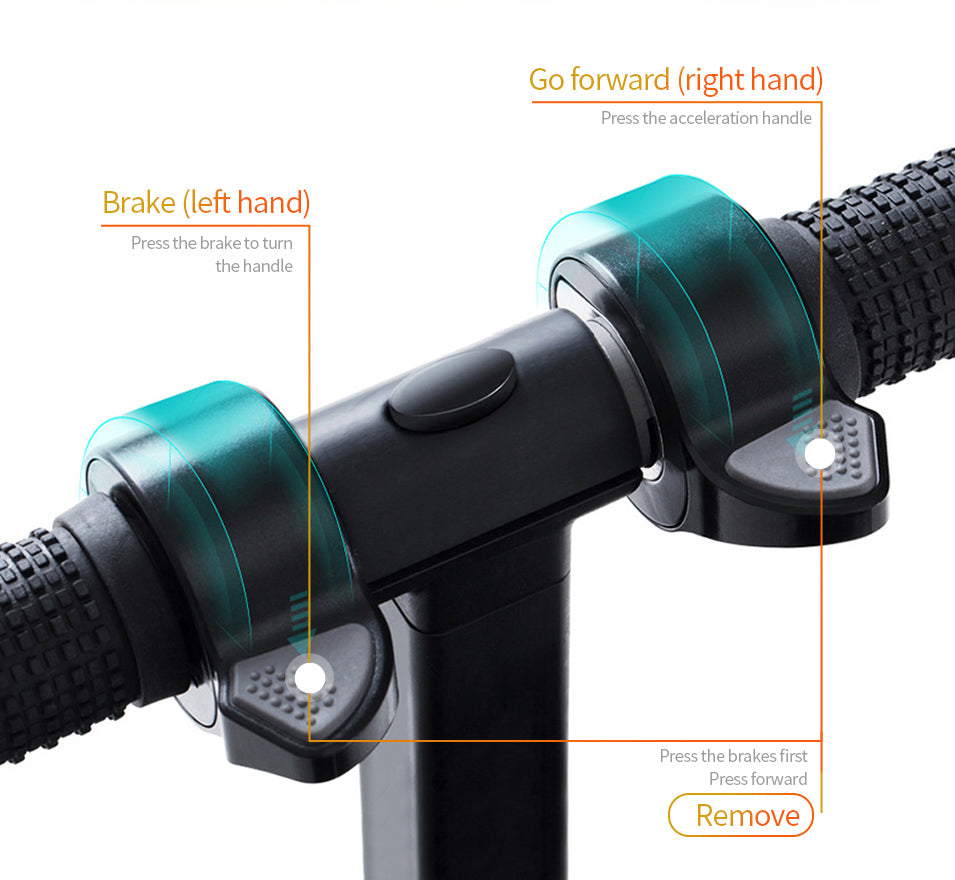 Comfortable and Intuitive Handlebar Design
SE3 mini T features a self-designed handlebar with a rubber-covered surface that offers a comfortable grip. Its intuitive design makes it easy to operate, and you can follow the simple illustrations below to get started. With the SE3 mini T, you can enjoy a smooth and comfortable ride while effortlessly navigating through crowded airports or busy streets.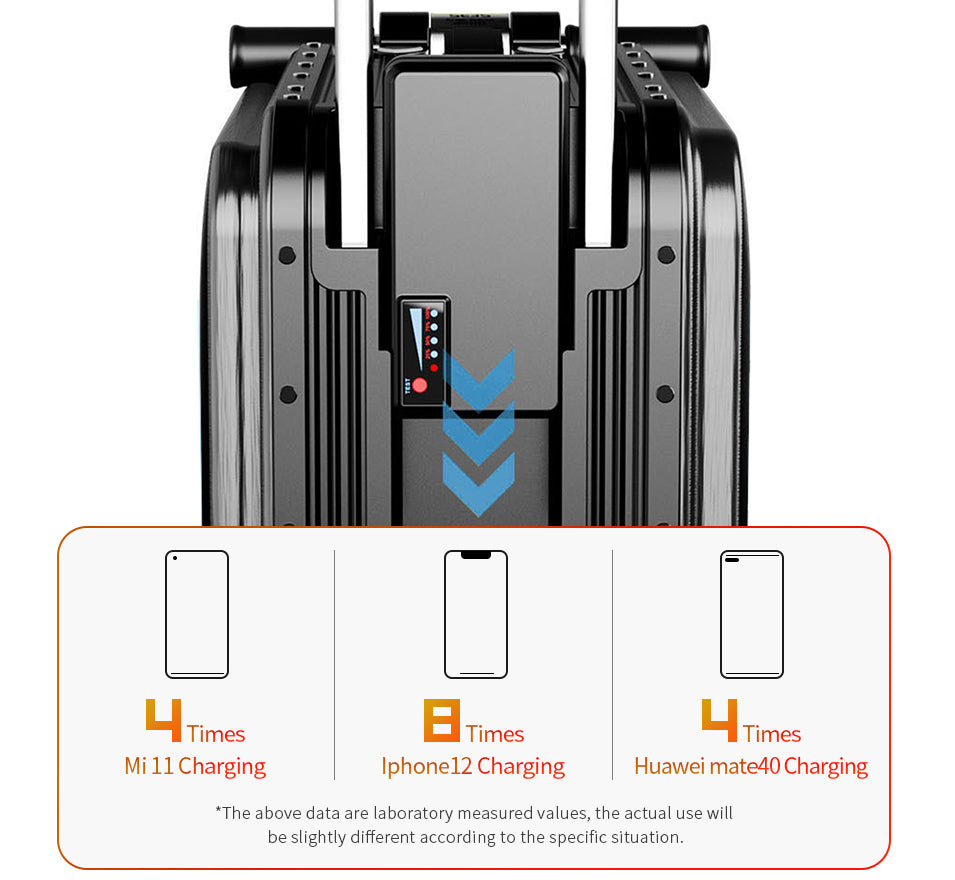 Power and Convenience
SE3 mini T comes with a powerful and detachable 73.26Wh battery that not only charges your electric devices like mobile phones, tablets, and consoles but also provides long-lasting energy to your rideable luggage. The battery's convenient detachability allows you to easily carry it with you wherever you go or replace it if needed. You can even check the battery's capacity by simply pressing the red button, causing the LED lights to illuminate and display the remaining power.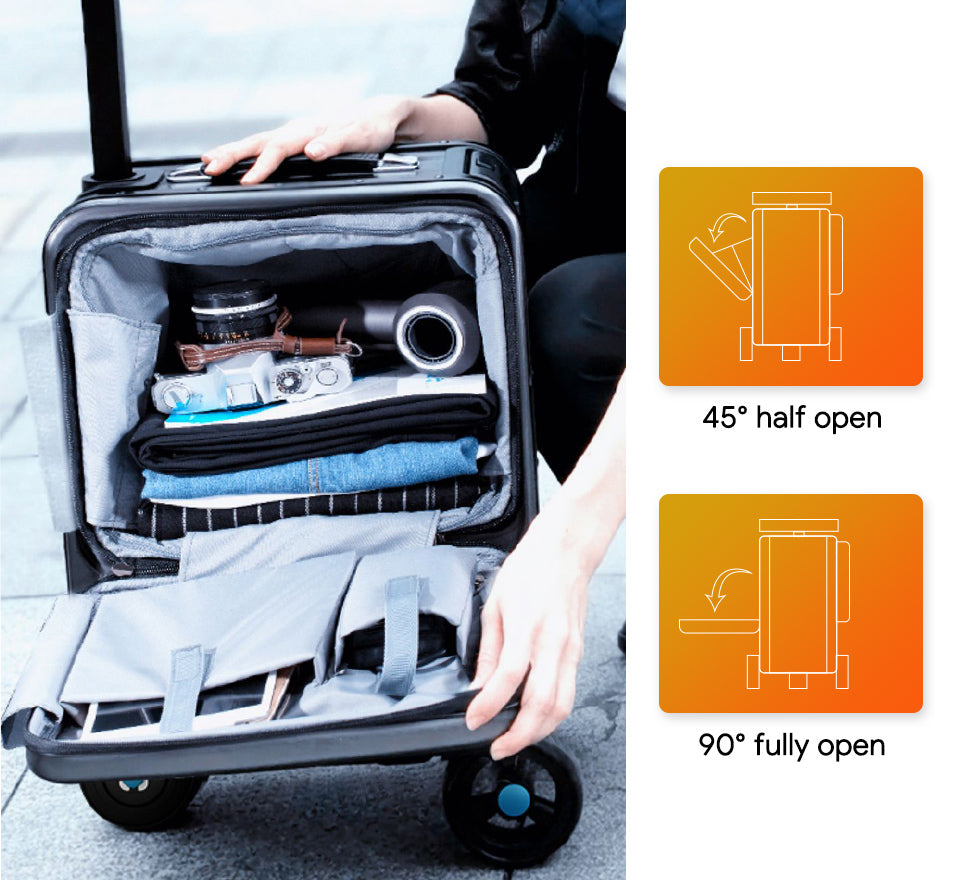 The Ultimate Travel Companion for Privacy and Convenience
SE3 mini T is perfect for those who value privacy and convenience during travel. Its unique 45°/90°closure design ensures that your belongings are protected from prying eyes, while the spacious 26L suitcase capacity allows you to pack all your travel essentials. With SE3 mini T, you can travel with peace of mind and enjoy the convenience of having all your belongings in one safe and secure place.
Experience Comfort and Safety with SE3 mini T's Ergonomic Riding Design
SE3 mini T offers an ergonomic riding experience that's designed to keep your legs and feet comfortable during use. The unique "Z" design, recognized by international IF award winners, provides optimal positioning for riders. You can easily brake with your feet, ensuring safety on the go.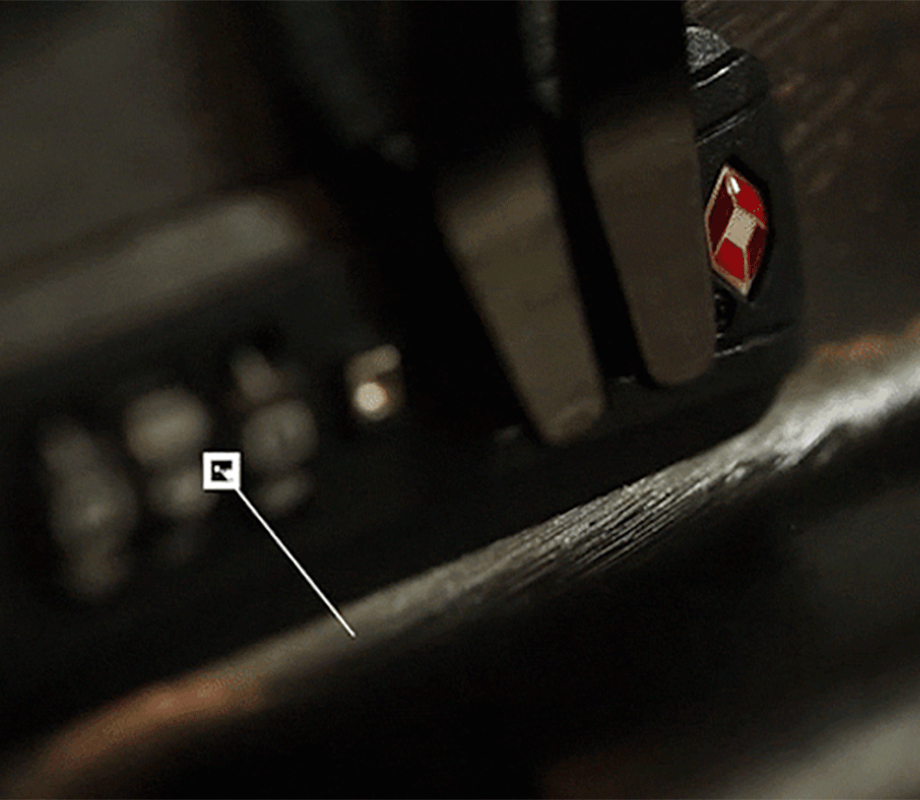 Secure Your Belongings with TSA Customs Locks
TSA customs locks offer added security and convenience for air travelers by preventing unauthorized access to their luggage and reducing the risk of theft or tampering. Se3 mini T incorporates this feature, making it an essential travel accessory for those who value the safety and security of their belongings during air travel.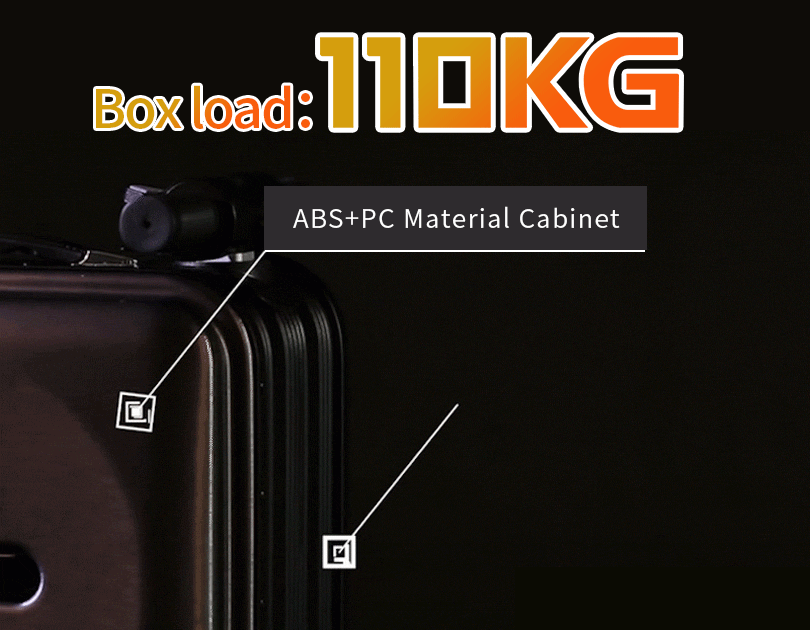 A Sturdy Rideable Suitcase with a 110kg Load Capacity
SE3 mini T is built with high-quality materials such as ABS+PC for the cabinet and aviation-grade aluminum alloy for the frame. This sturdy construction supports a load of up to 110kg, ensuring that you can ride on your suitcase with confidence and ease, without worrying about damaging it.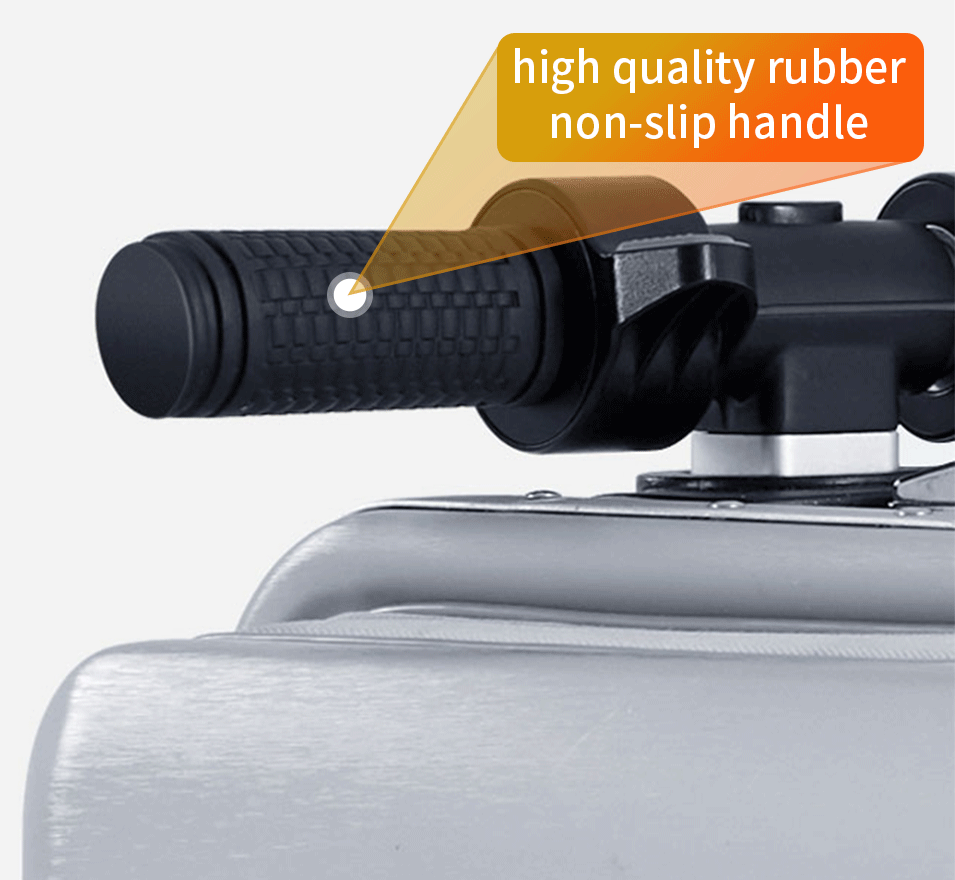 Anti-Skid Wheels and Soft Rubber Handlebar
SE3 mini T is designed to provide a safe and comfortable riding experience. Its anti-skid wheels offer excellent grip and stability, ensuring you stay safe while riding. The handlebar is made of soft rubber, which provides a comfortable grip that won't slip, even when you're on the move. You can ride with confidence, knowing that the handlebar won't be slippery, and you won't lose your grip while navigating crowded airport terminals or city streets.
SE3 T mini
Love little scooter! I got one for my granddaughter, and one form her half-sister. Both of the little girls have had such a good time on their scooters. It has made it so much easier getting through the airport. I wouldn't want to do without it now.
I did have a problem with the first one that I bought. I cannot say enough about how nice everyone at the Customer Service department was, and how helpful everyone was. The situation was quickly and easily resolved.
Perfect for Adventurers
it is perfect for adventurers. The compact size makes it easy to carry around on outdoor excursions, while the built-in electric scooter is great for exploring new places. The luggage itself is made of high-quality materials and has plenty of space for your outdoor gear. Highly recommend for anyone who loves to explore!
Great for Commuting
The compact size makes it easy to carry onto public transportation, while the built-in electric scooter is perfect for the last leg of your commute. The luggage itself is spacious enough to fit your work essentials and is made of high-quality materials that can withstand the rigors of daily use.
Stylish and Practical
The Airwheel SE3MiniT luggage is both stylish and practical. The compact size makes it easy to carry around, while the built-in electric scooter is a great way to get around once you reach your destination. The luggage itself is made of high-quality materials and has plenty of space for all your belongings.