Regular price
$759.00 USD
Regular price
$939.00 USD
Sale price
$759.00 USD
Unit price
per
Sale
Sold out
Experience the ultimate convenience in travel with the Airwheel SR5, an intelligent robot suitcase that follows you automatically. Equipped with UWB and sensor technology, this suitcase is designed to avoid obstacles and navigate seamlessly through crowds. With the smart bracelet, you'll never have to worry about losing your luggage - the app triggers an automatic alarm and the bracelet will vibrate to warn you. The Airwheel SR5 is a compact 20 inches, making it the perfect size for boarding. Travel with peace of mind and let the Airwheel SR5 be your worry-free companion.
SIZE & DETAILS

⦁ Product size: 381*246*533 mm

⦁ Size: 20 inches (international cabin carry-on size)

⦁ Volume: 30 Liter

⦁ Weight: 6 kg

⦁ Battery capacity 62.6Wh

⦁ Motor Power 50w/20w

⦁ Material: ABS+PC
Share
View full details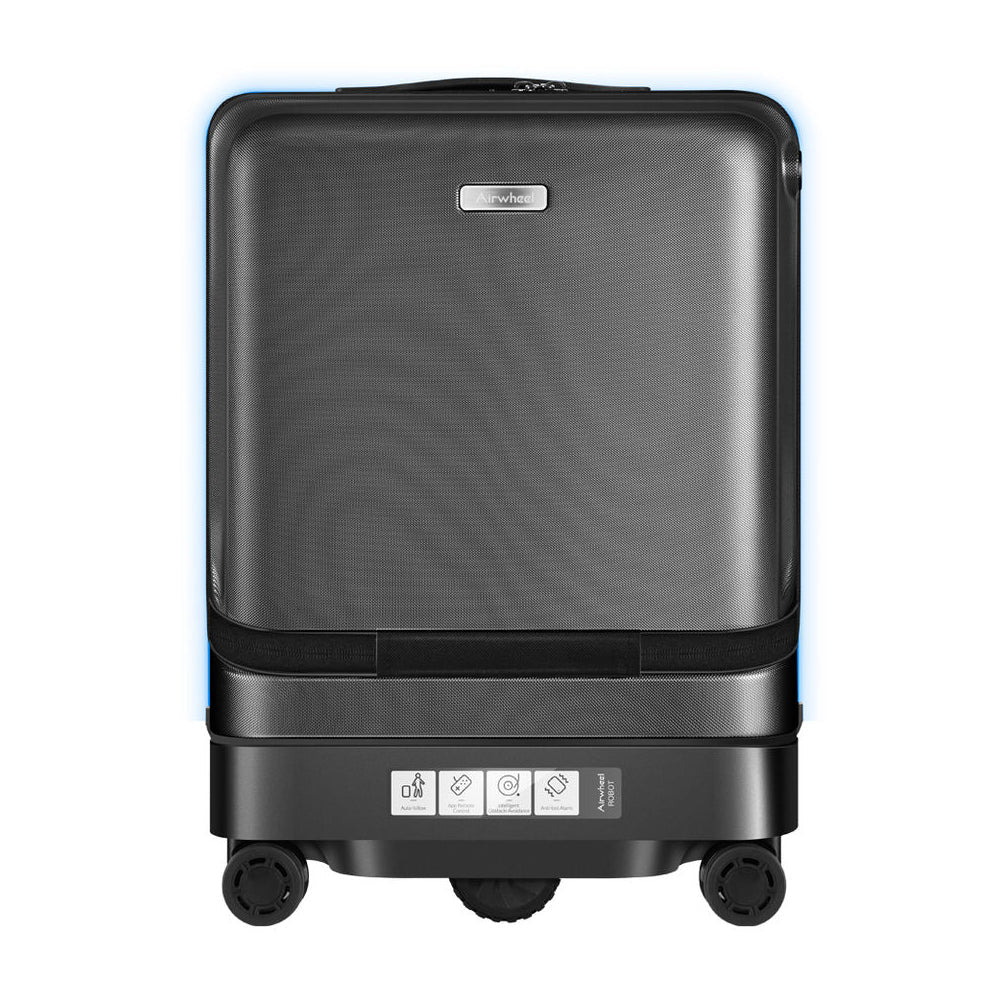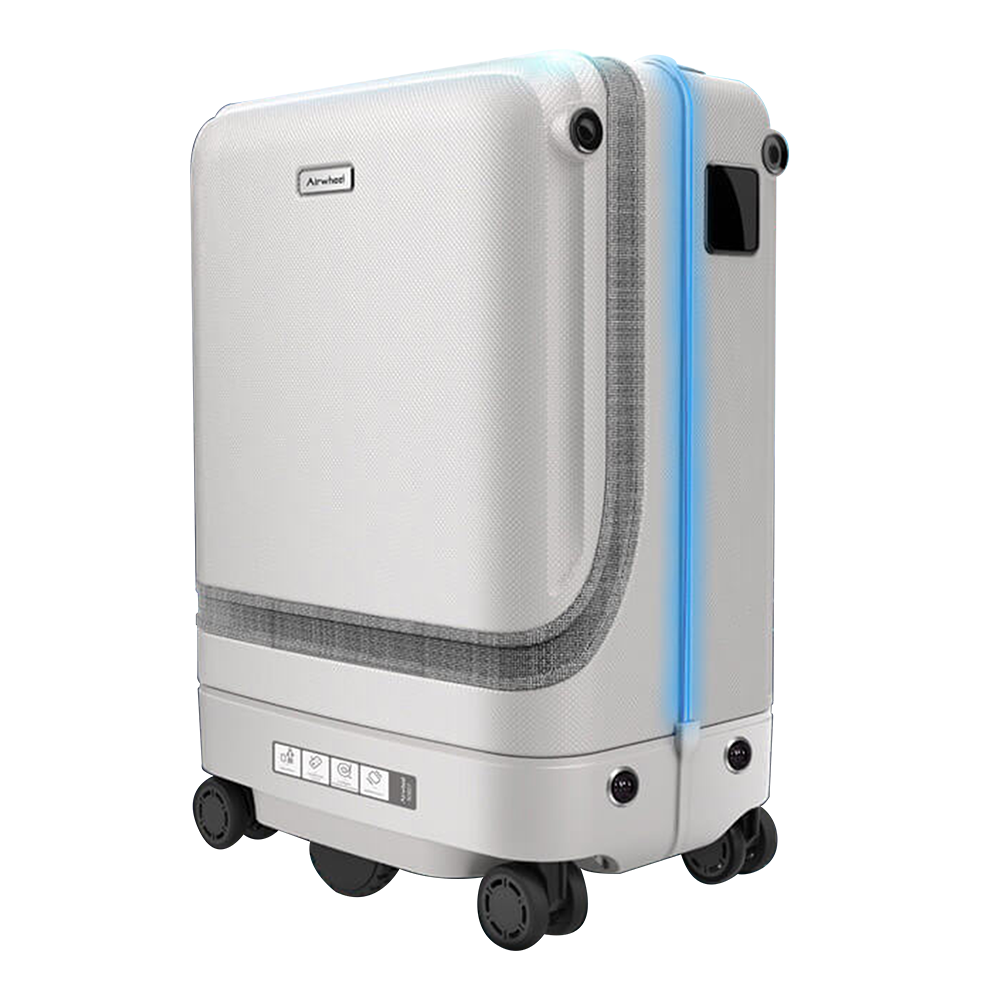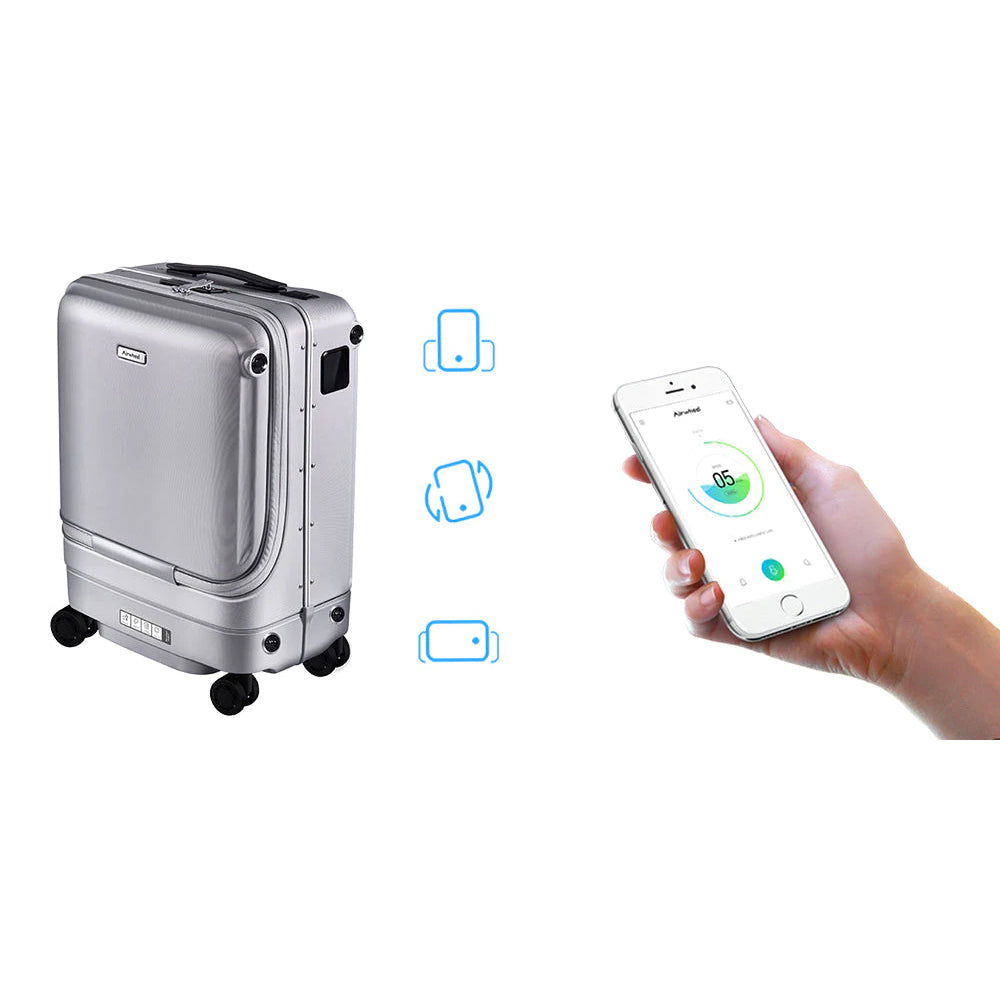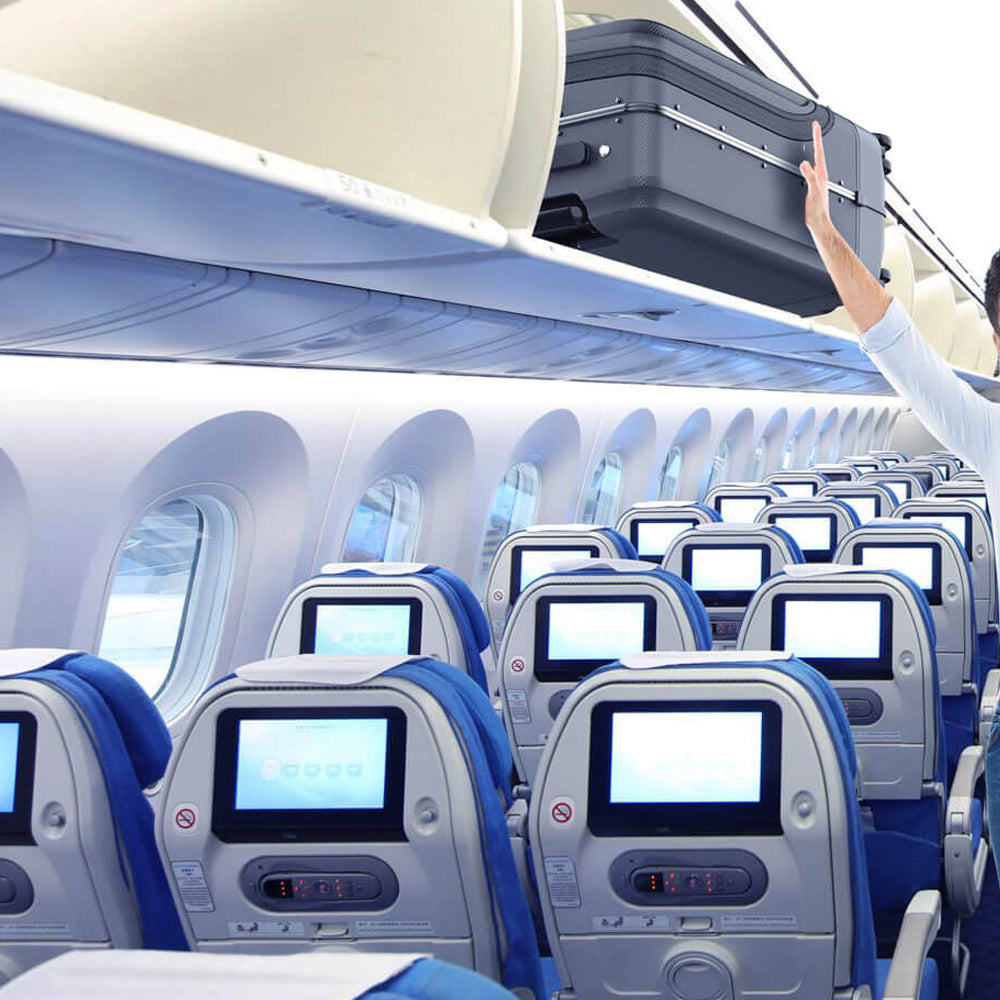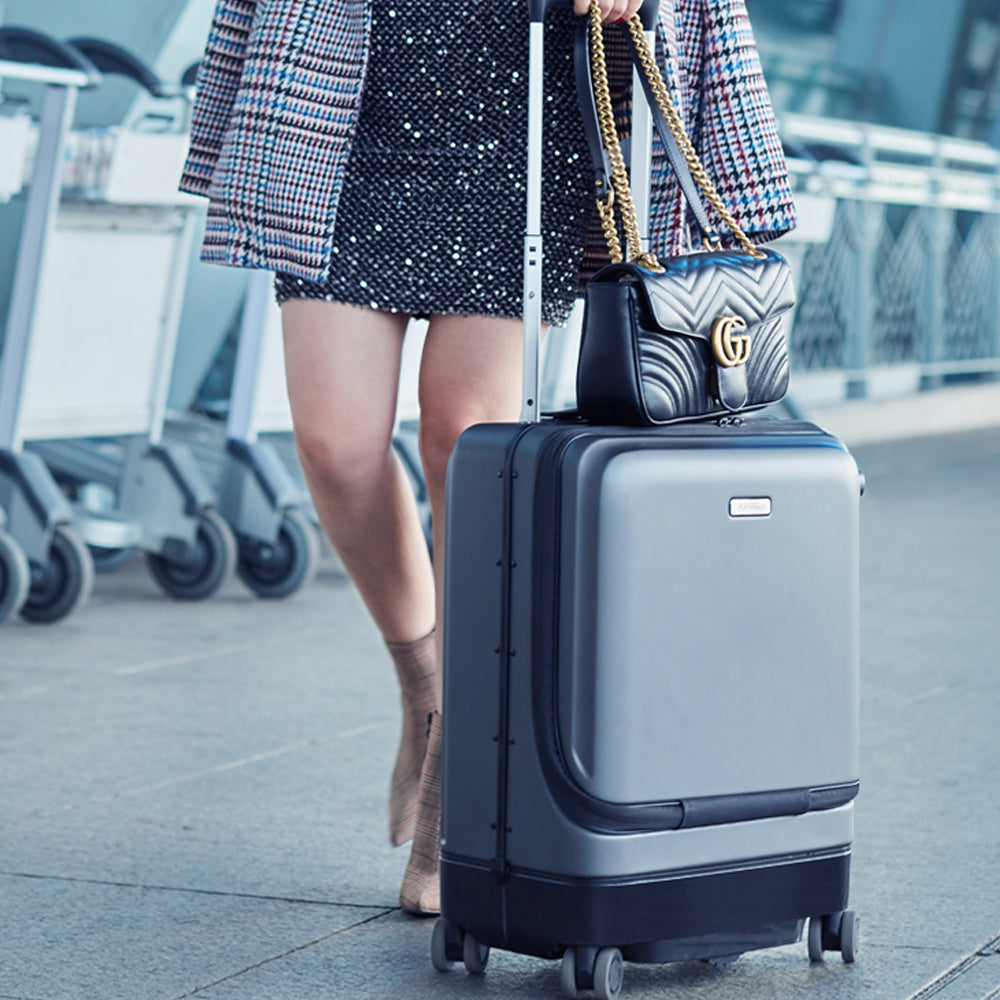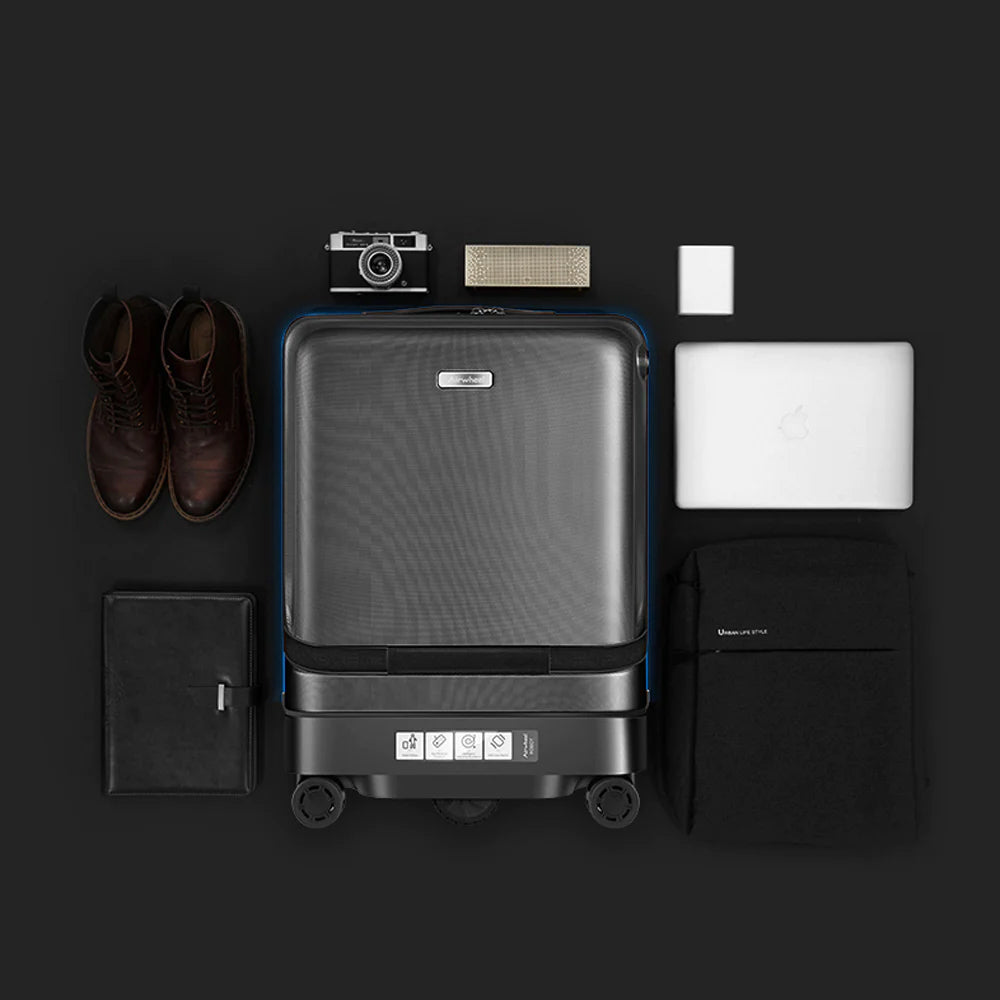 Airwheel smart ridding suitcase SR5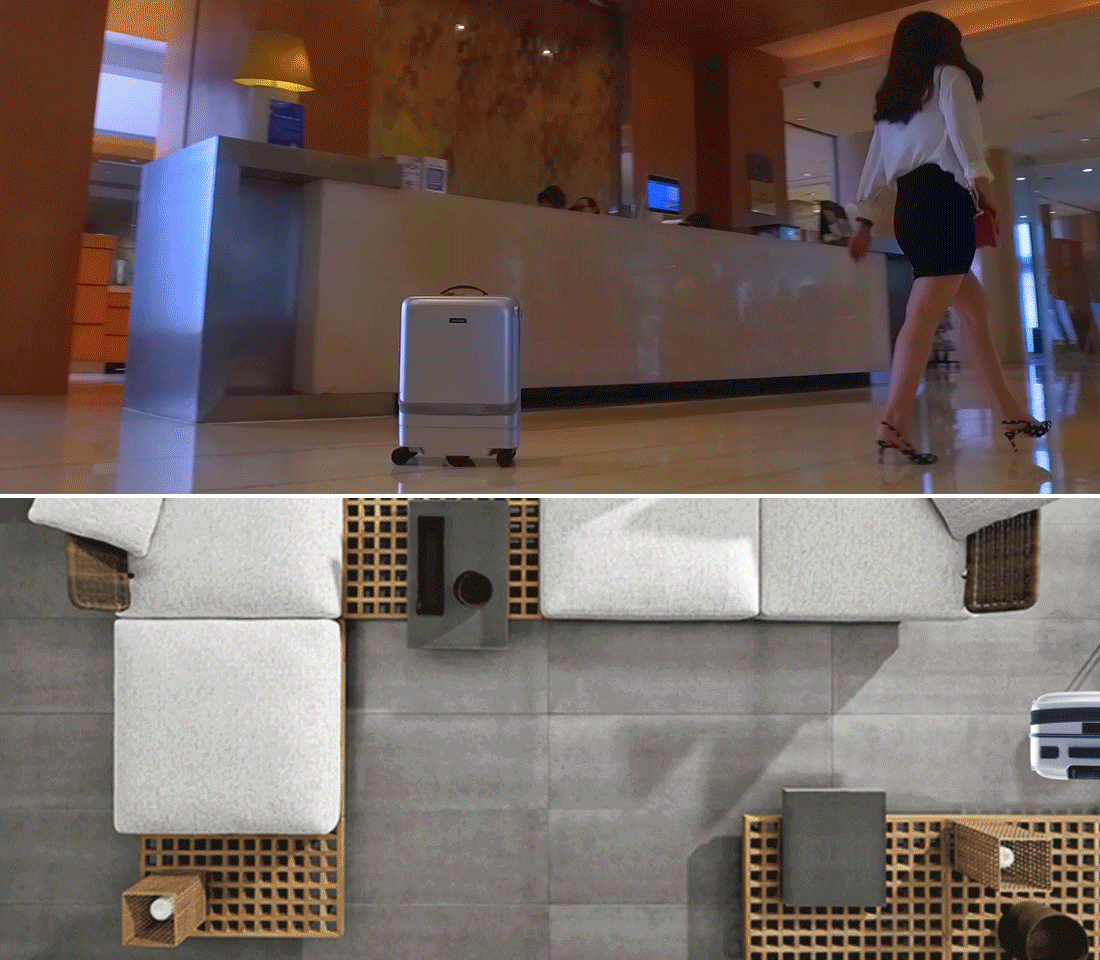 Advanced Auto-Follow and Obstacle Avoidance Features
Looking for a cutting-edge suitcase that can keep up with your on-the-go lifestyle? Look no further than the Airwheel SR5 self-driving suitcase! Equipped with advanced auto-follow and obstacle avoidance features, this smart trolley can effortlessly navigate through any environment, day or night, without bumping into people or objects.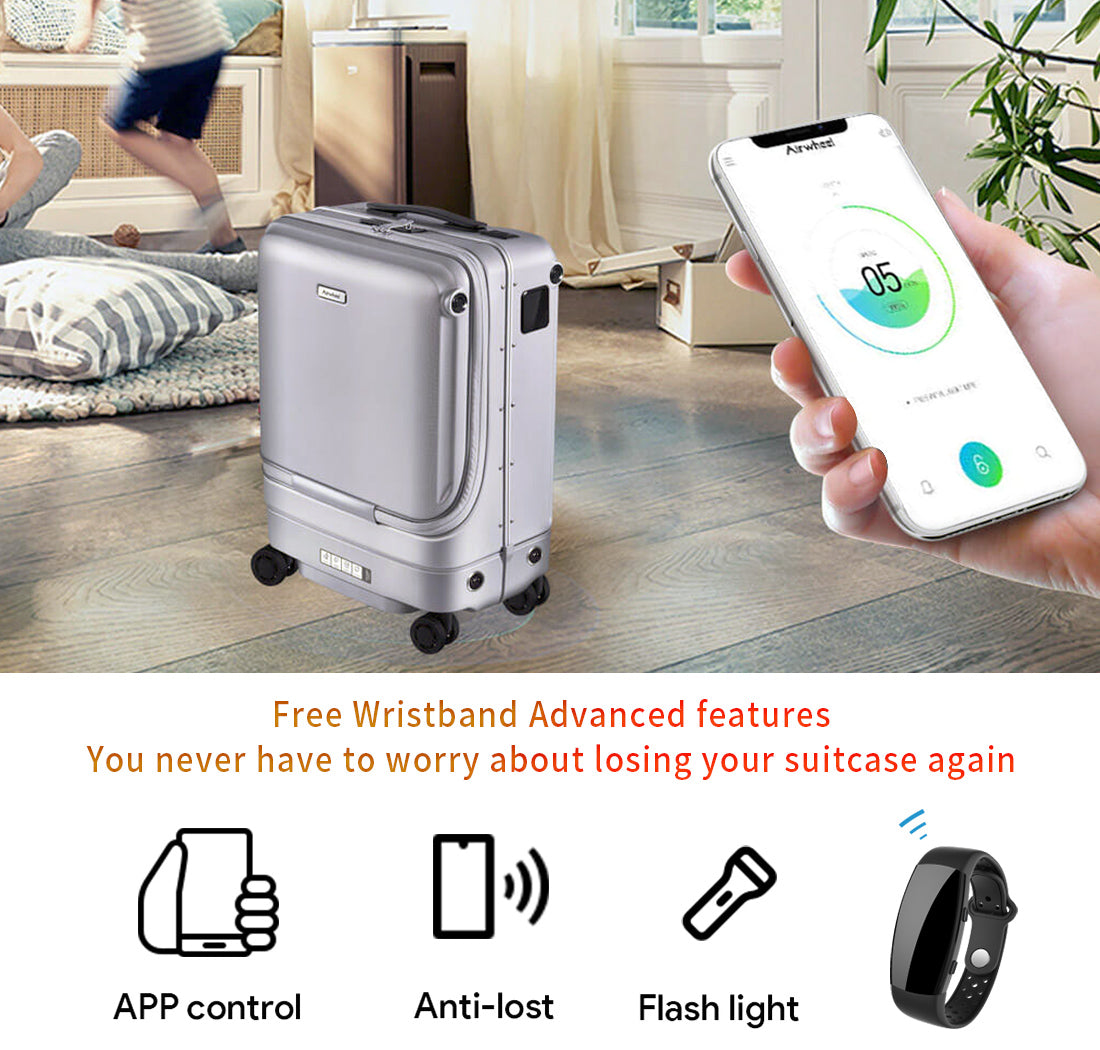 Free Wristband and Advanced Control Features via Official App
The SR5 also supports a mobile remote control, allowing you to change the suitcase's speed, activate the anti-lost alarm function, and more. With three different control methods to choose from - One-hand control, gravity sensing, and two-hand control - you can customize your travel experience to fit your unique needs and preferences. With its free wristband and advanced alarm features, you'll never have to worry about losing your suitcase again. Simply connect to the official app on your mobile phone to control your box with ease and keep your belongings safe and secure.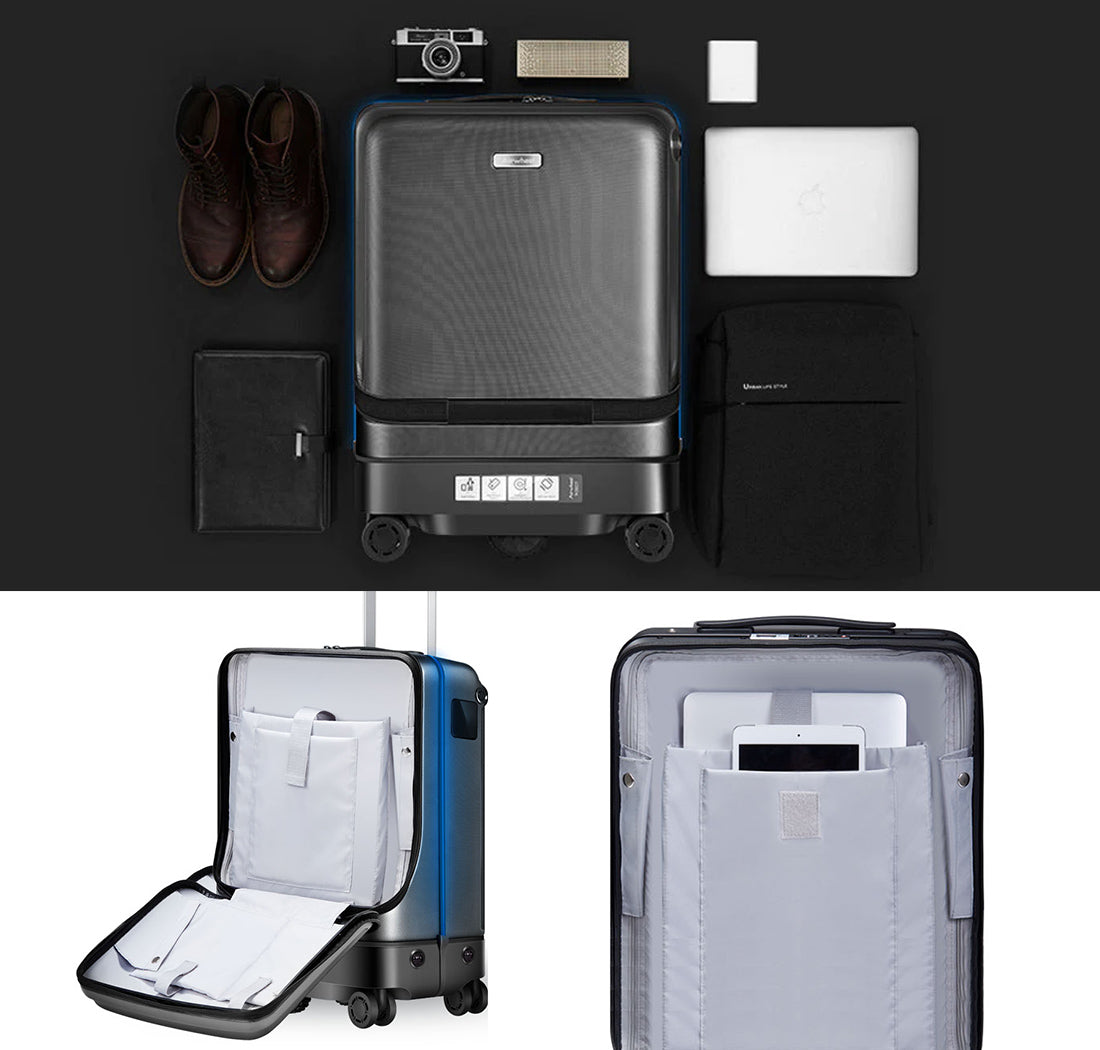 Perfect Size for International Carry-On and Easy Access 90-Degree Side Opening
Measuring 20 inches - the standard size for international airplanes - this smart suitcase is the perfect carry-on companion. And with its 90-degree side opening feature, accessing your belongings has never been easier.
But that's not all - the SR5 also boasts a spacious, well-designed interior with plenty of room for all your travel essentials. So whether you're packing for a weekend getaway or a longer trip abroad, you can rest assured that your favorite items will be safe and secure in the Airwheel SR5.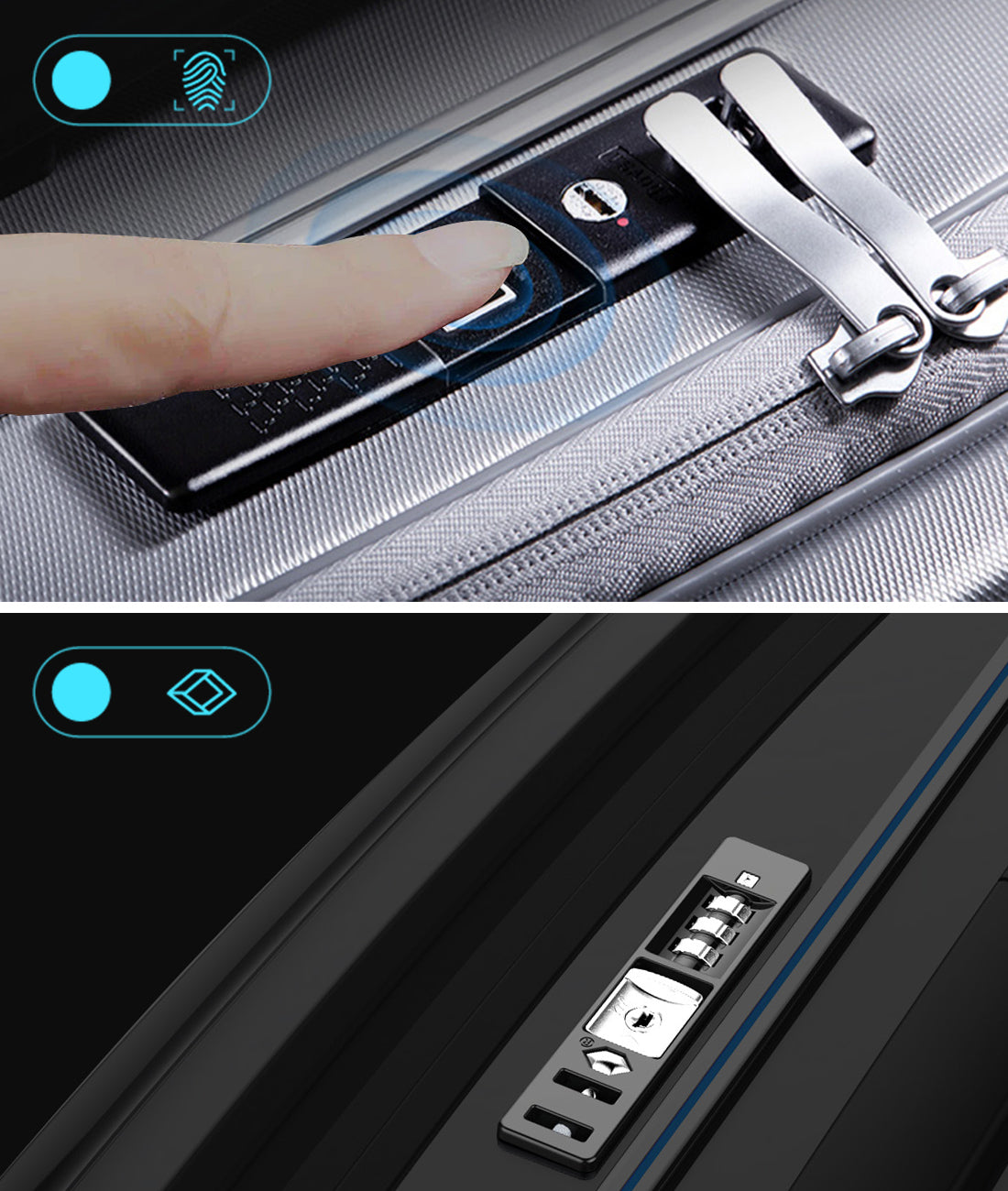 Living Fingerprint Chip and TSA Certified Lock for Hassle-Free Travel
Equipped with a living fingerprint chip, this smart suitcase is ahead of the game when it comes to security and convenience. With just a simple touch, you can unlock your luggage in just 2 seconds and access your belongings with ease. And with the ability to store up to five fingerprints, the SR5 is perfect for families on the go.
But that's not all - the SR5 also features a TSA combination lock certified by the US Transportation Safety Administration. This means that customs staff can easily access your luggage without damaging it, giving you peace of mind and hassle-free travel. So whether you're a frequent flyer or just getting started, the Airwheel SR5 is the perfect choice for smart, secure travel.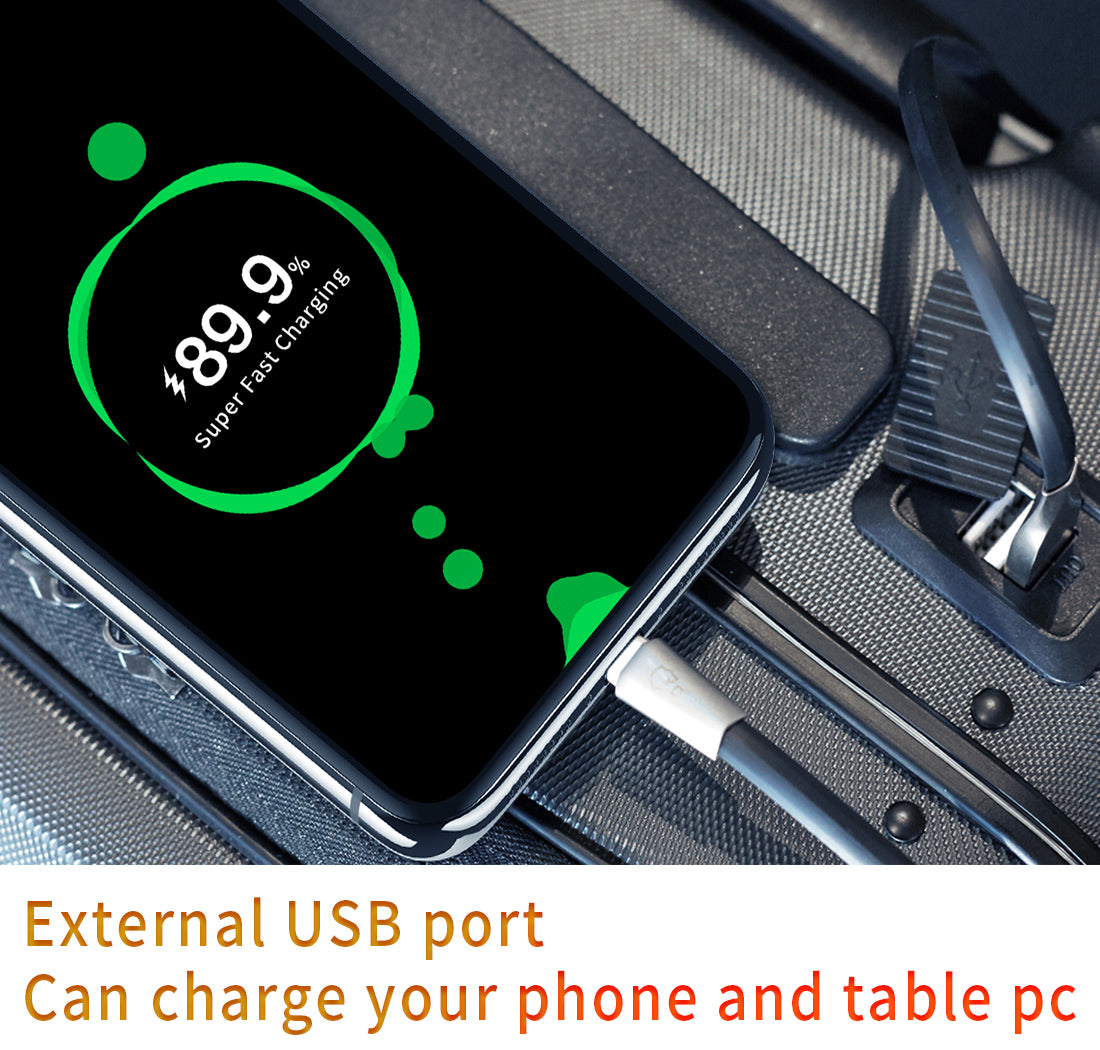 Removable 12000mAh Battery and External USB Port for Hassle-Free Charging
Traveling can be stressful enough without having to worry about your devices running out of battery. Luckily, the Airwheel SR5 intelligent luggage has you covered. With a removable 12000mAh lithium-ion battery that complies with airline boarding requirements, you can stay connected and powered up throughout your journey. And with an external USB port, you can easily charge your phone and tablet on the go - with a full charge lasting up to 12 hours!
Stay Safe and Stylish with Airwheel SR5 Intelligent Luggage - LED Light for Easy Visibility in Dark Environments
Traveling can be exciting, but it can also be challenging - especially in dimly lit environments. That's why the Airwheel SR5 intelligent luggage is designed with your safety and convenience in mind. With an LED light that stays on when you switch on the main power, you'll always be able to see your luggage - even in the dark. And with an auto-follow or remote control mode, the LED light becomes a calming, breathing light that helps guide you along your way. In the event of an emergency, the LED light will flash rapidly, alerting those around you to your situation.
But safety isn't the only benefit of the SR5's LED light - it's also unexpectedly beautiful, adding a touch of style and flair to your travels. With the Airwheel SR5, you'll be the envy of other travelers, dazzling in the dark and making a bold statement wherever you go.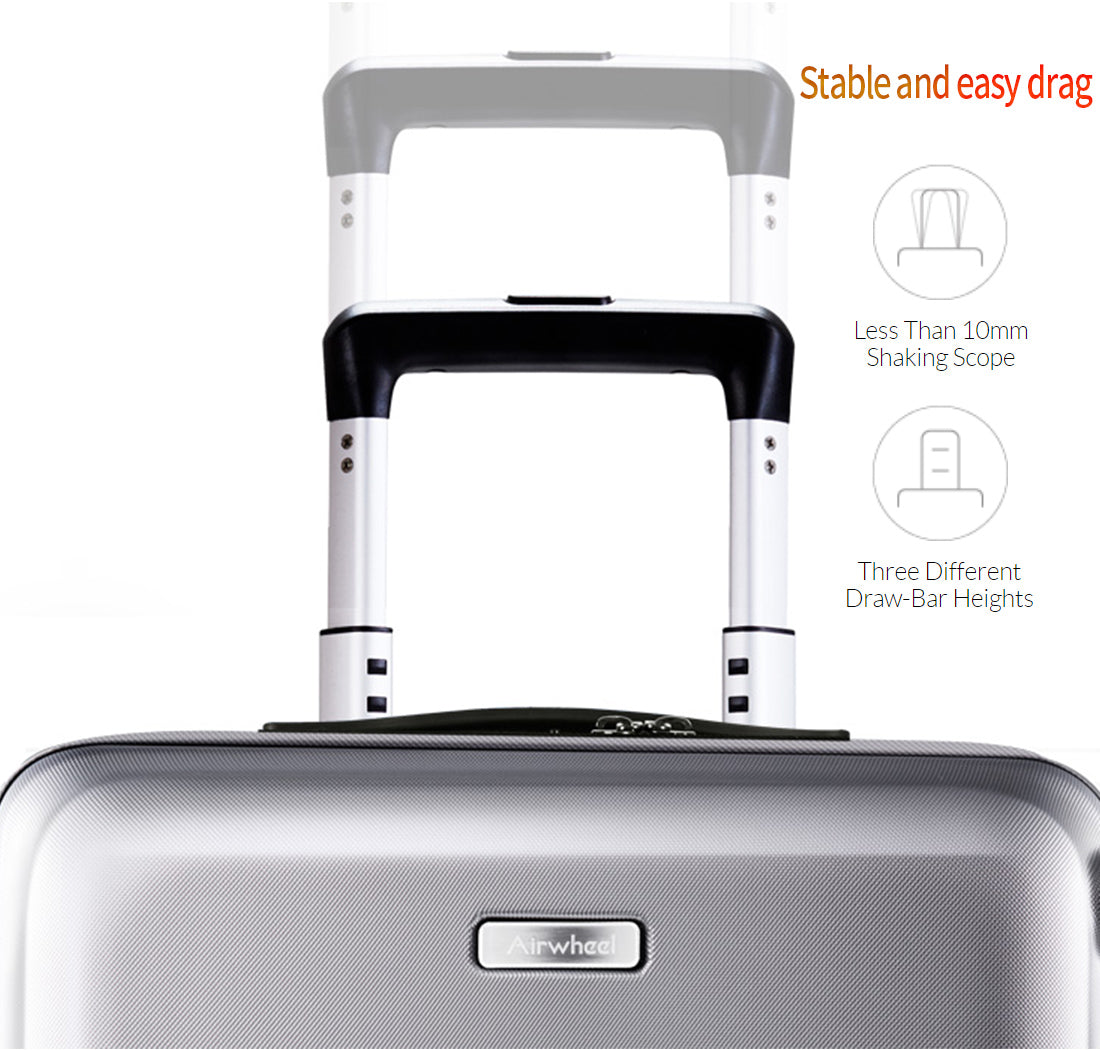 High-Strength Aluminum Alloy Rod and Easy Height Adjustment
The Airwheel SR5 intelligent luggage is engineered for durability and convenience, with a high-strength thickened all-aluminum alloy rod that provides stability and control. Its full-fit hidden design allows for easy height adjustment, ensuring a comfortable and effortless dragging experience. With the SR5, you can confidently navigate your way through any environment, knowing that your luggage is built to last and designed with your comfort in mind.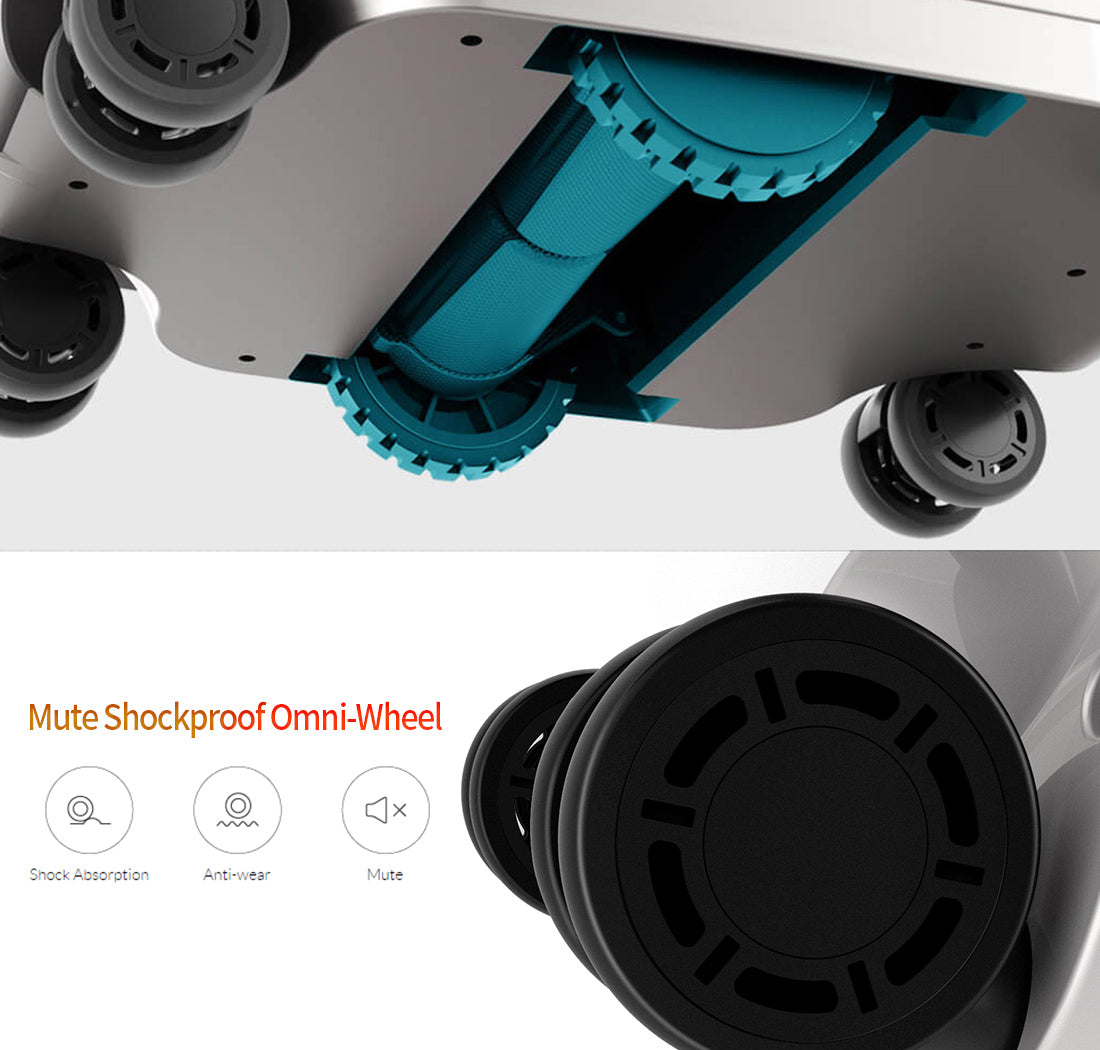 Experience Smooth and Effortless Travel with Two-Wheel Drive SR5 Smart Luggage
The Airwheel SR5 intelligent luggage features a powerful two-wheel drive with a 30W power output and a rated motor speed of 500RPM, providing you with stable and reliable performance. When you need to manually move the suitcase, simply press a button to extend or retract the motorized wheels, not only protecting the motor but also making the luggage easy to tow.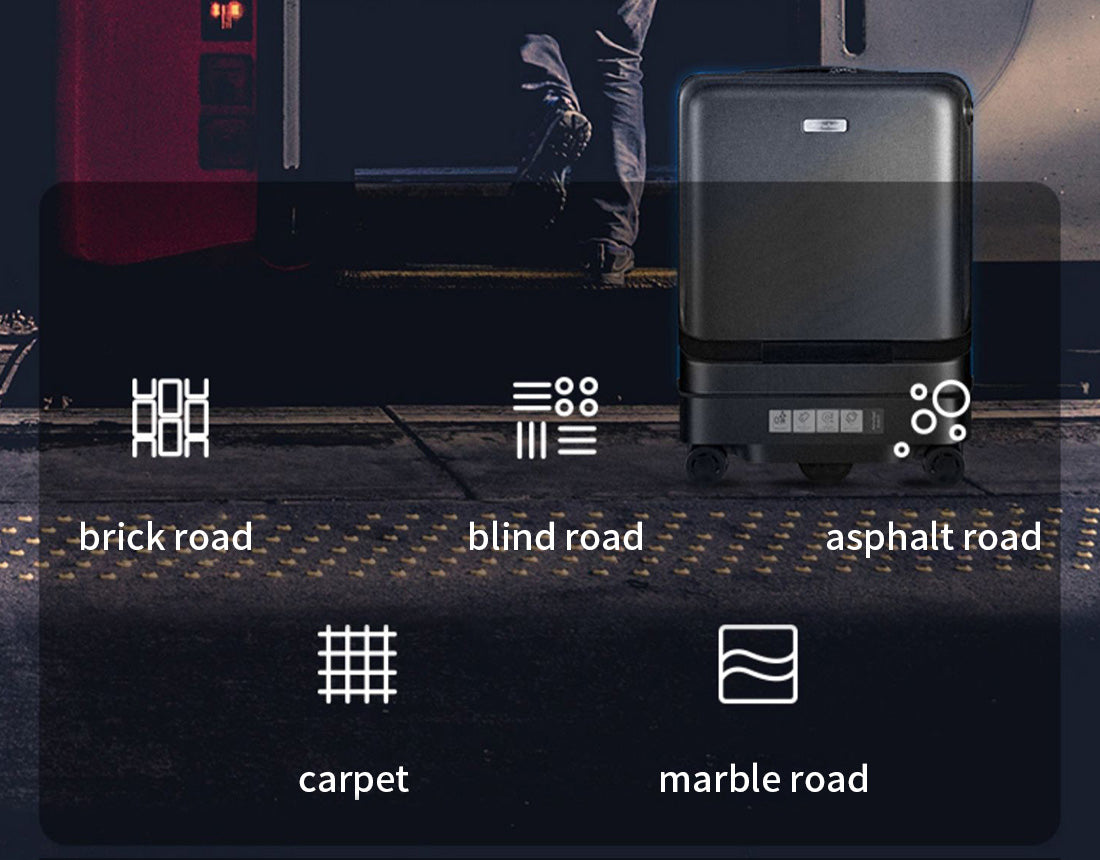 Adaptable and Versatile: SR5 Self-Driving Suitcase Conquers Multiple Terrains with Ease
The SR5 self-driving suitcase is engineered to tackle diverse terrains, from carpets to marble, tiles to cement roads, asphalt to blind roads, and even airport conveyor belts. Experience hassle-free travels on any surface with the versatile SR5.
Lightweight and Durable: SR5 Self-Driving Suitcase Made with ABS+PC Material
The SR5 self-driving suitcase is built to withstand the rigors of travel. Made from a lightweight yet durable ABS+PC material, it can endure bumps, scratches, and impacts from accidental drops. The material is also water-resistant, protecting your belongings from unexpected spills and rain showers. Additionally, the suitcase is scratch-resistant, ensuring that it will look great for years to come. Whether you're traveling for business or pleasure, the SR5's rugged construction provides peace of mind that your belongings are safe and secure.