Regular price
$869.00 USD
Regular price
$1,123.00 USD
Sale price
$869.00 USD
Unit price
per
Sale
Sold out
The Airwheel SE3T Rideable Smart Suitcase is a versatile family luggage solution that allows you to travel with ease, even with children. With a maximum speed of 13 km/h, you can smoothly navigate through crowded airports or city streets. Designed with a longer seat length, the SE3T provides ample space for both an adult and a child to comfortably ride together. Whether you're heading on a family vacation or running errands around town, the SE3T rideable luggage offers the perfect blend of practicality and convenience. (Please note that the Se3T luggage measures 24 inches and may not meet standard carry-on size requirements for all airlines; please check your airline's specific baggage regulations before travel.)
SIZE & DETAILS

⦁ Product size: 535 x 287 x 605 mm

⦁ Size: 24 inches

⦁ Volume: 48 Liter

⦁ Weight: 9 kg

⦁ Max. load: 110 kg

⦁ Motor load: 250W

⦁ Max. speed: 13 km/h

⦁ Battery capacity: 73.26Wh

⦁ Material: German imported PC film + Taiwan's Chi Mei ABS
Share
View full details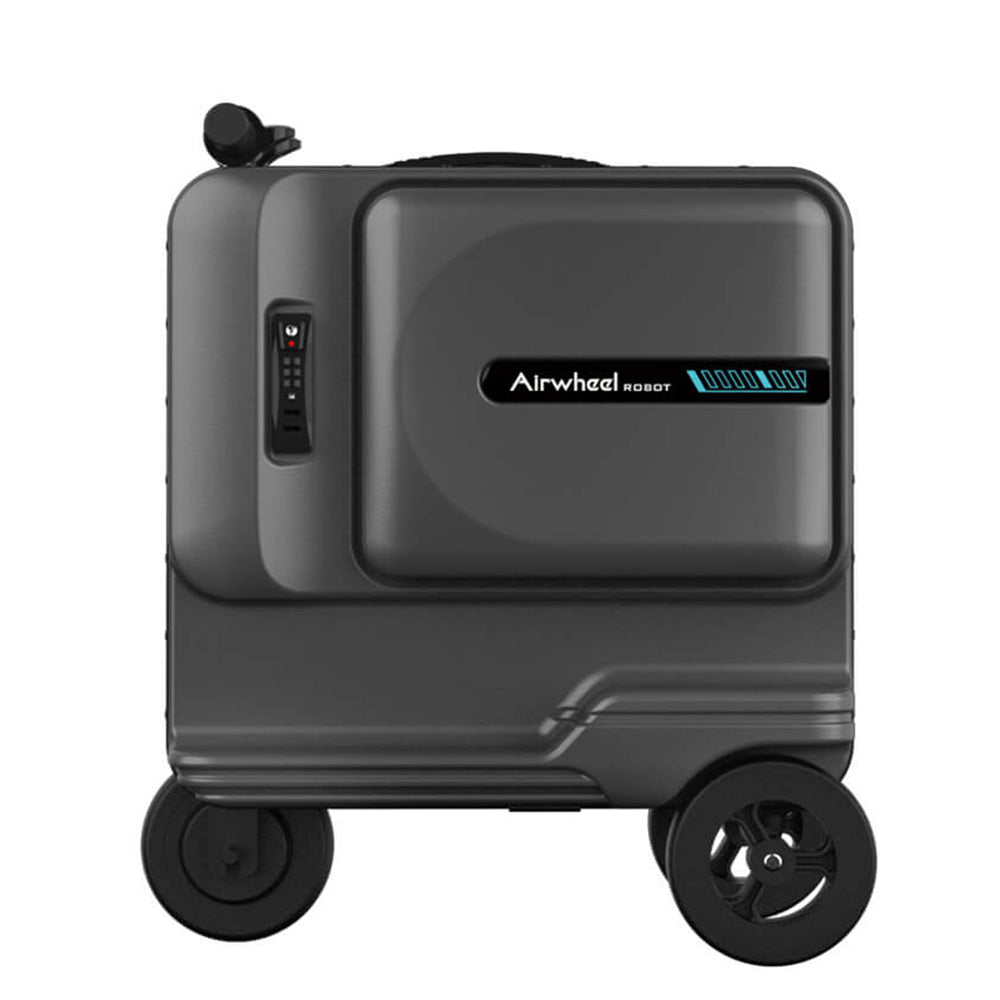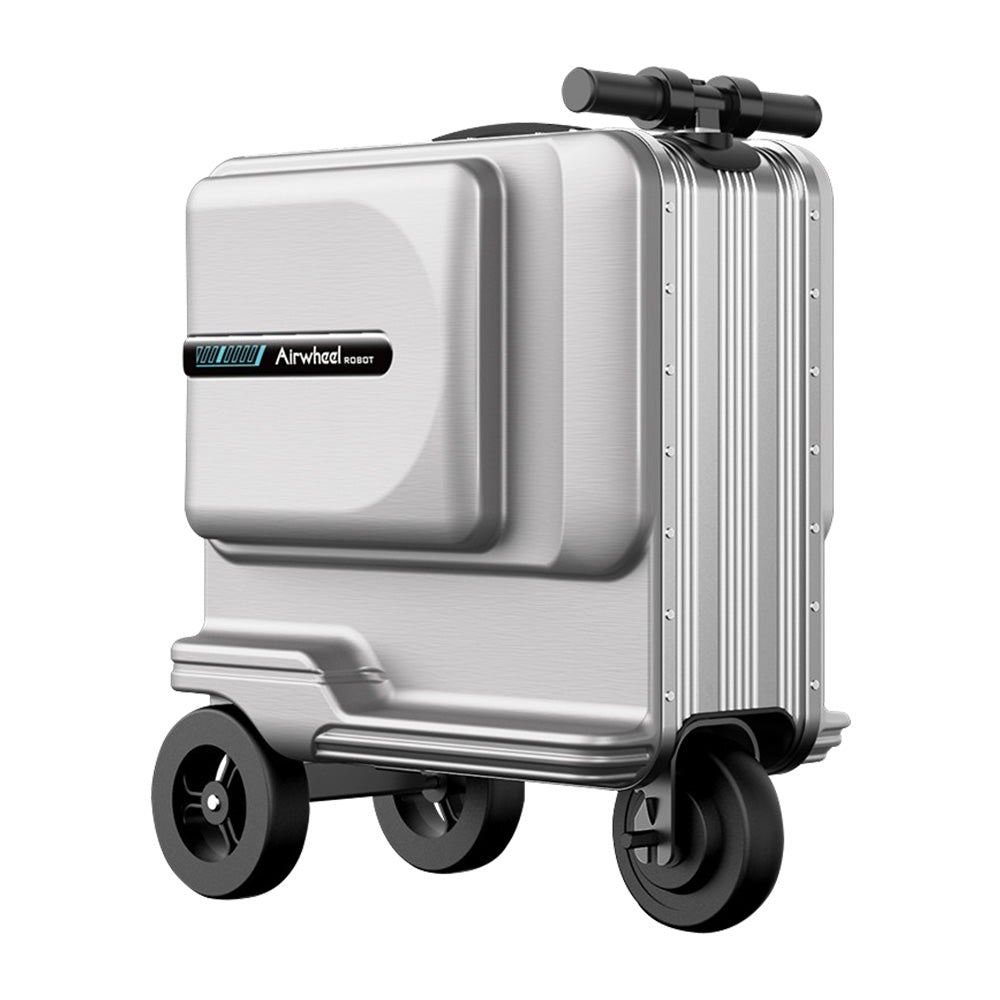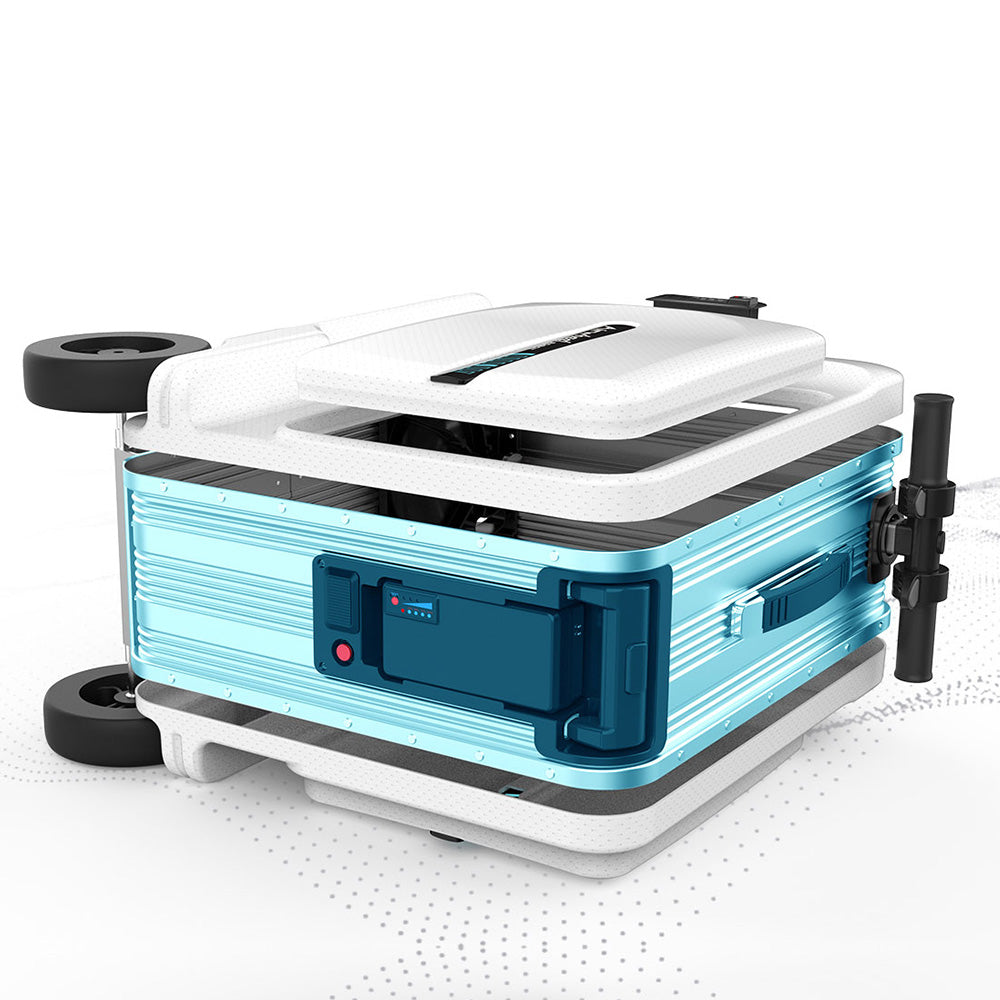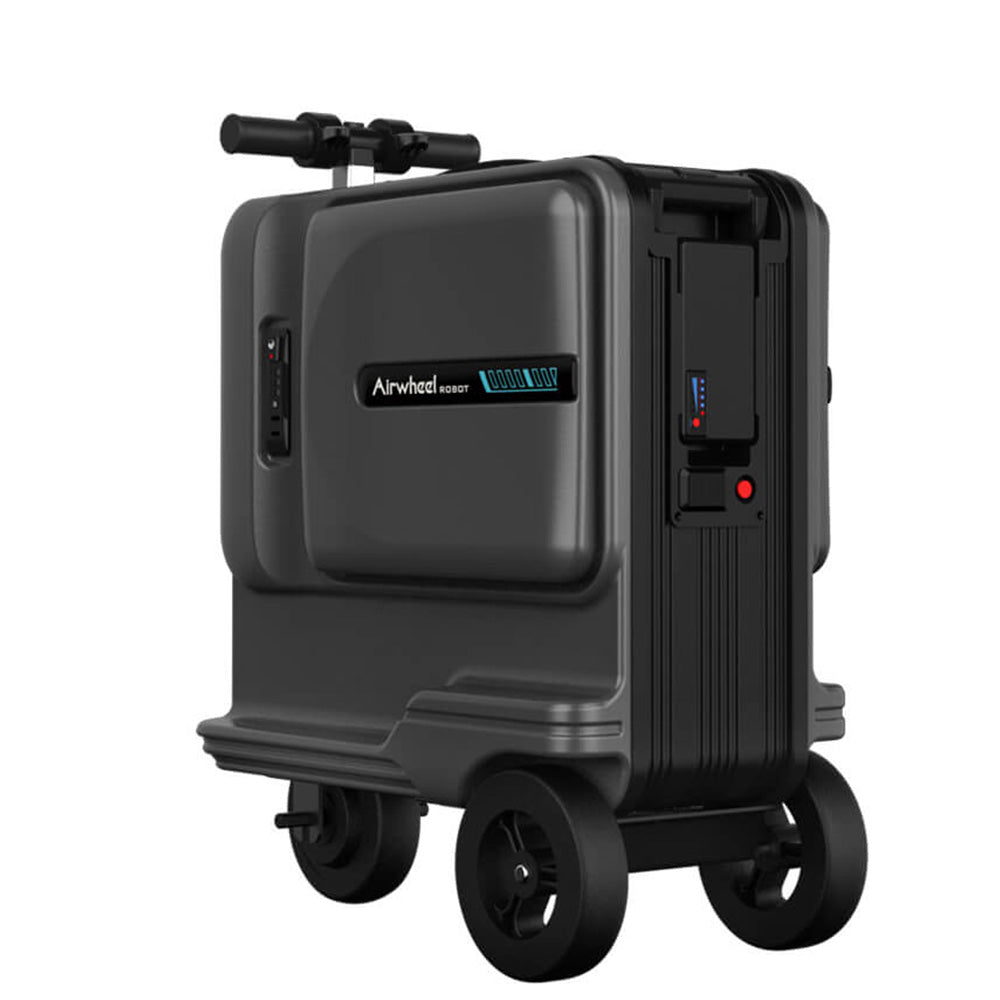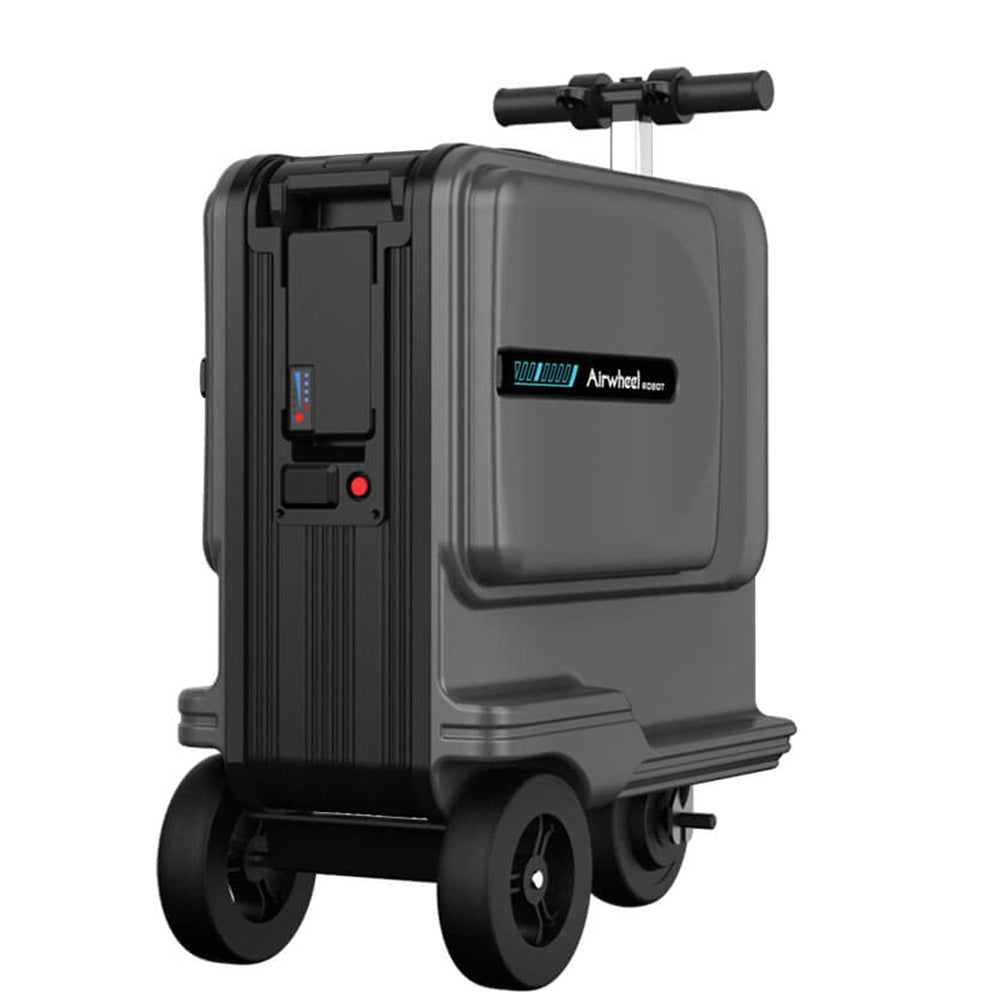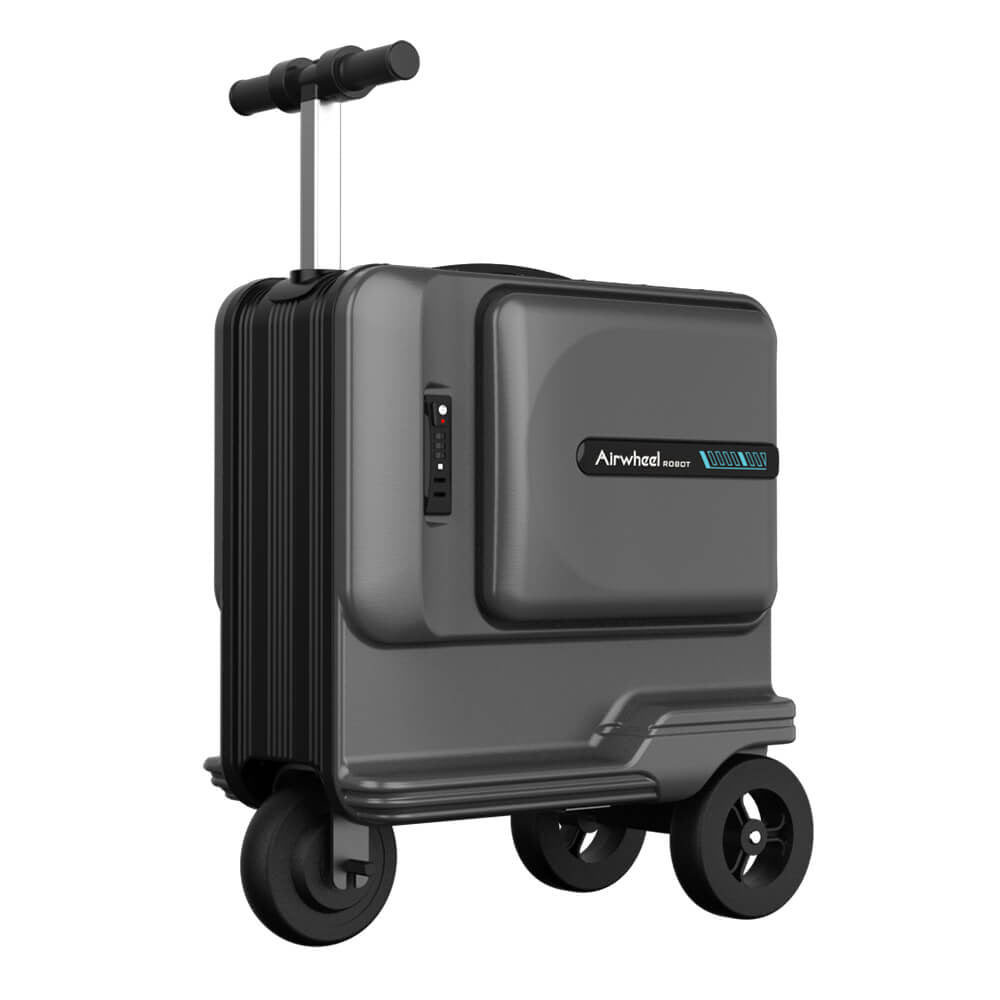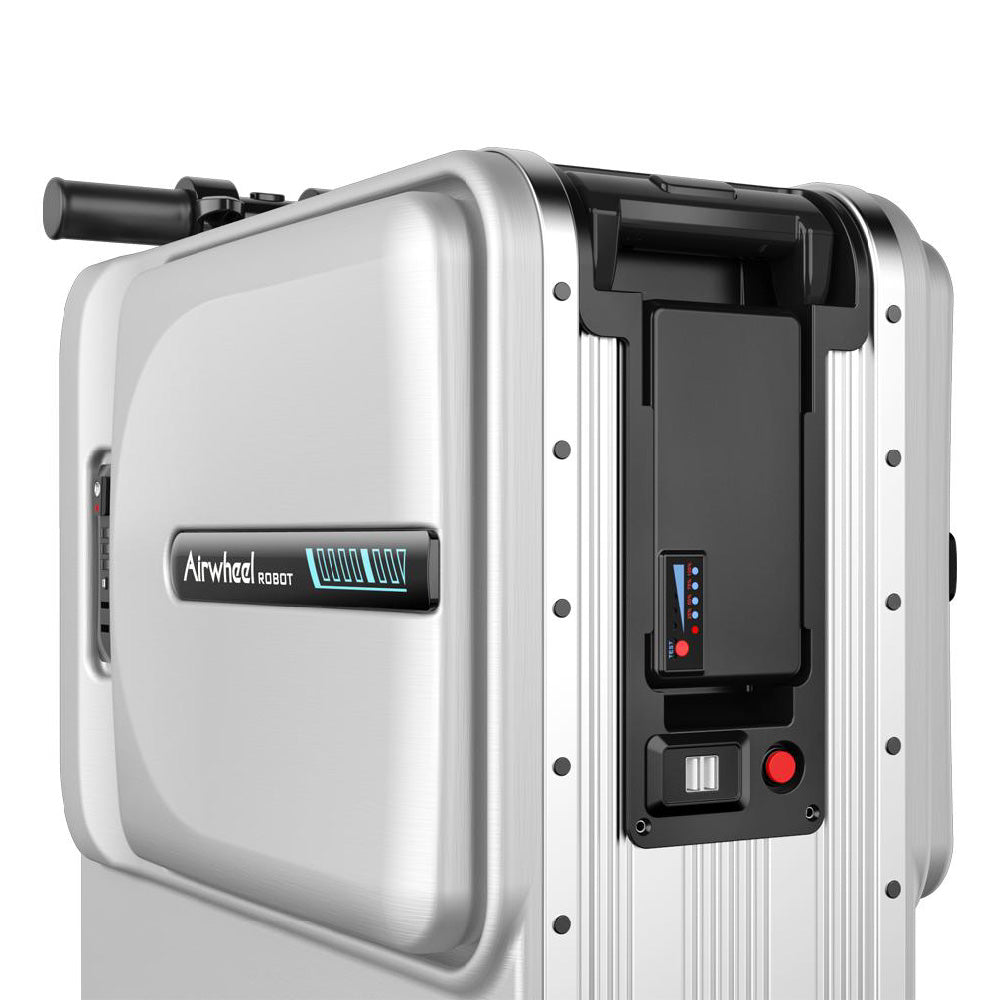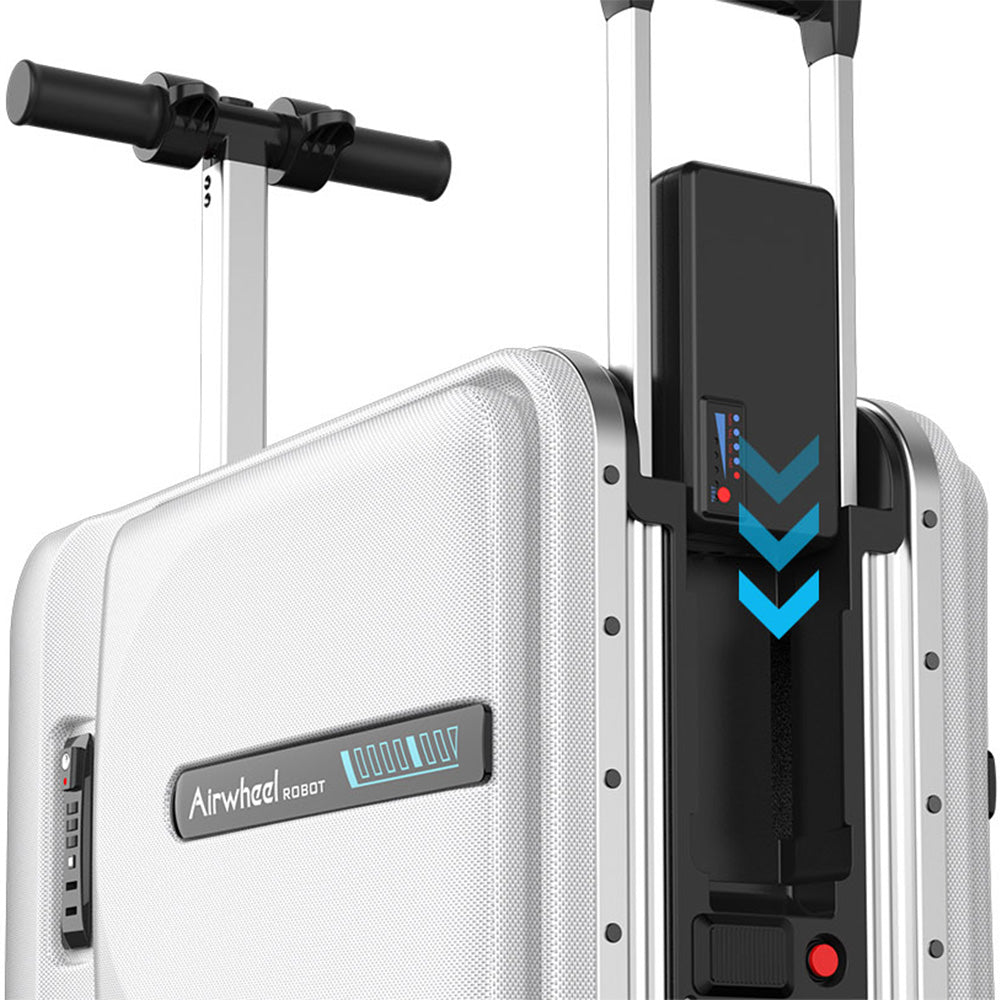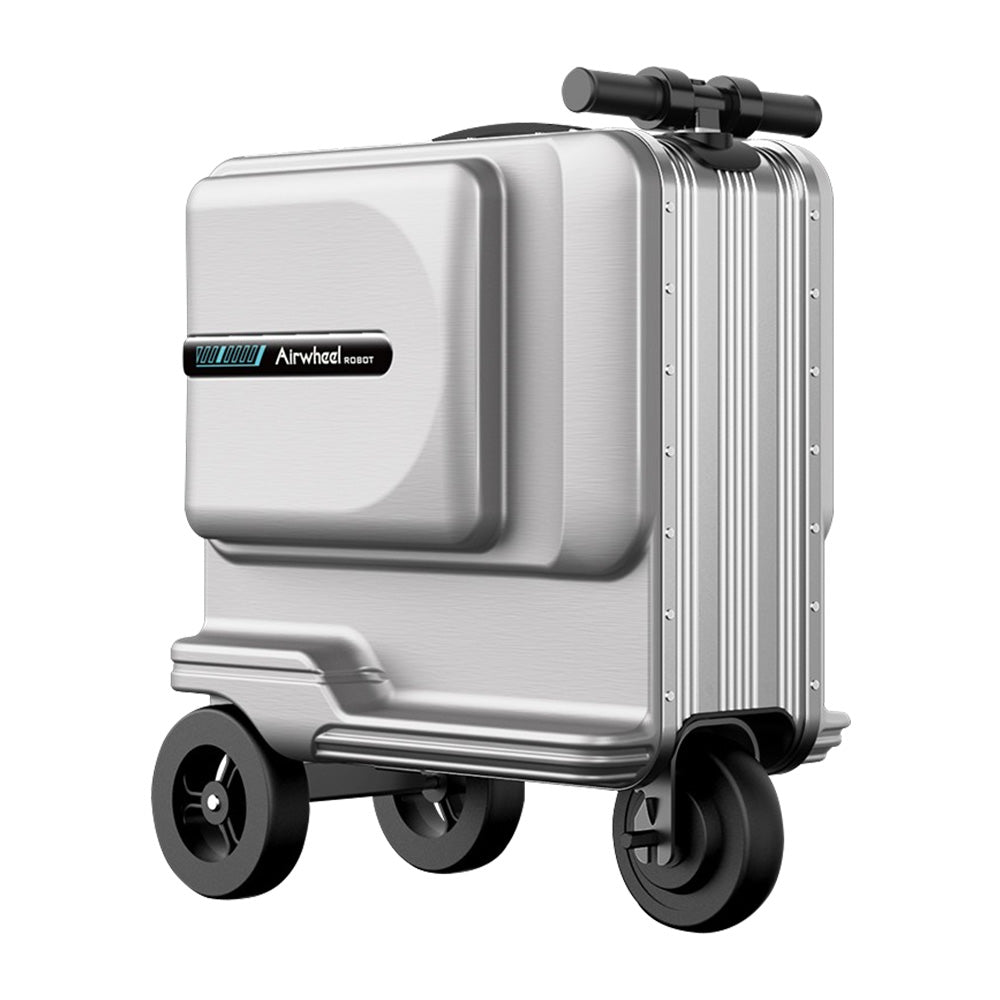 Airwheel smart riding suitcase SE3T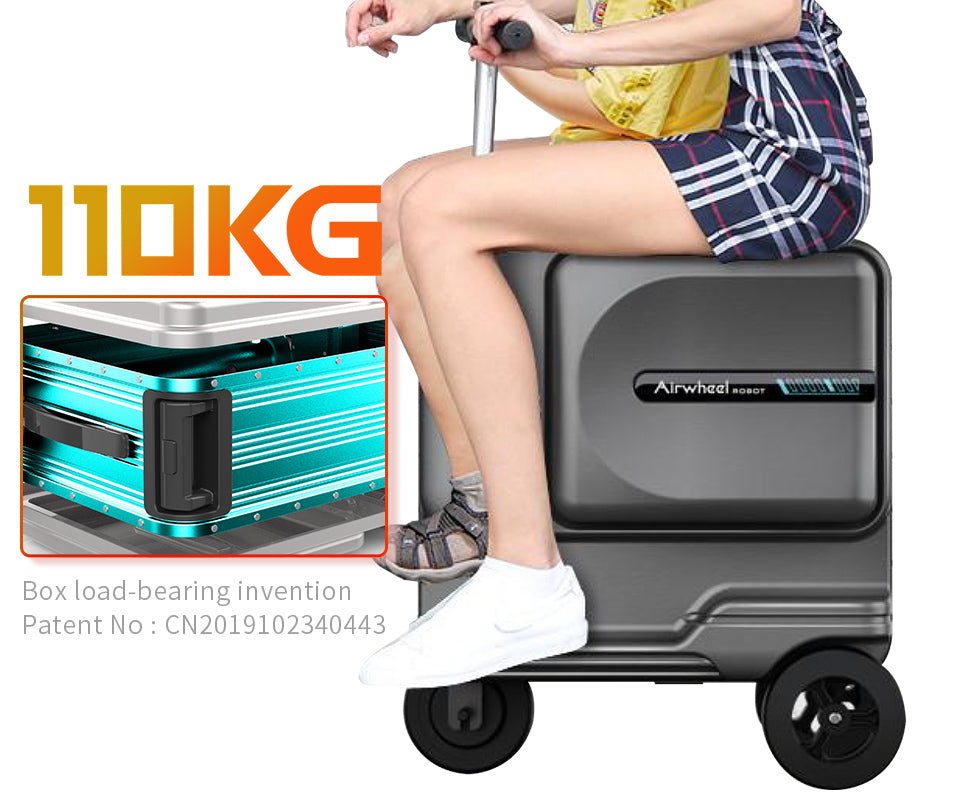 Upgraded to 24-inch Cabinet with Increased Capacity for Two Riders
With the 24-inch cabinet upgrade, the Airwheel SE3T Rideable Smart Suitcase now boasts a larger capacity, making it even more convenient for travelers. The extended box body can comfortably accommodate two riders, with an extended wheelbase of 52cm and a capacity of 48 liters. The new design also ensures a more stable center of gravity for added safety during your rides.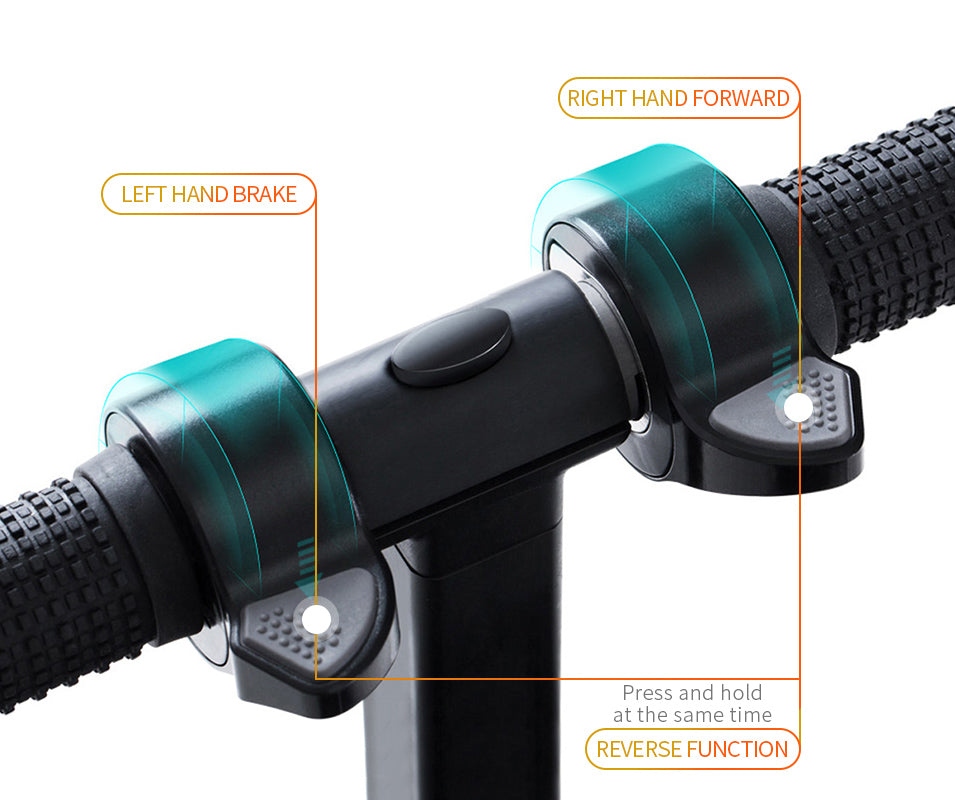 Effortlessly Control Your Ride
With the Airwheel SE3T rideable smart suitcase, you can experience a seamless and effortless ride with just a single press to start and release to stop. Whether it's your first time riding or not, you can easily control the two wheels side by side, which provides a stable and balanced ride even on uneven surfaces. The smooth and sensitive control system allows you to adapt to different road conditions with ease, giving you a more comfortable and enjoyable ride.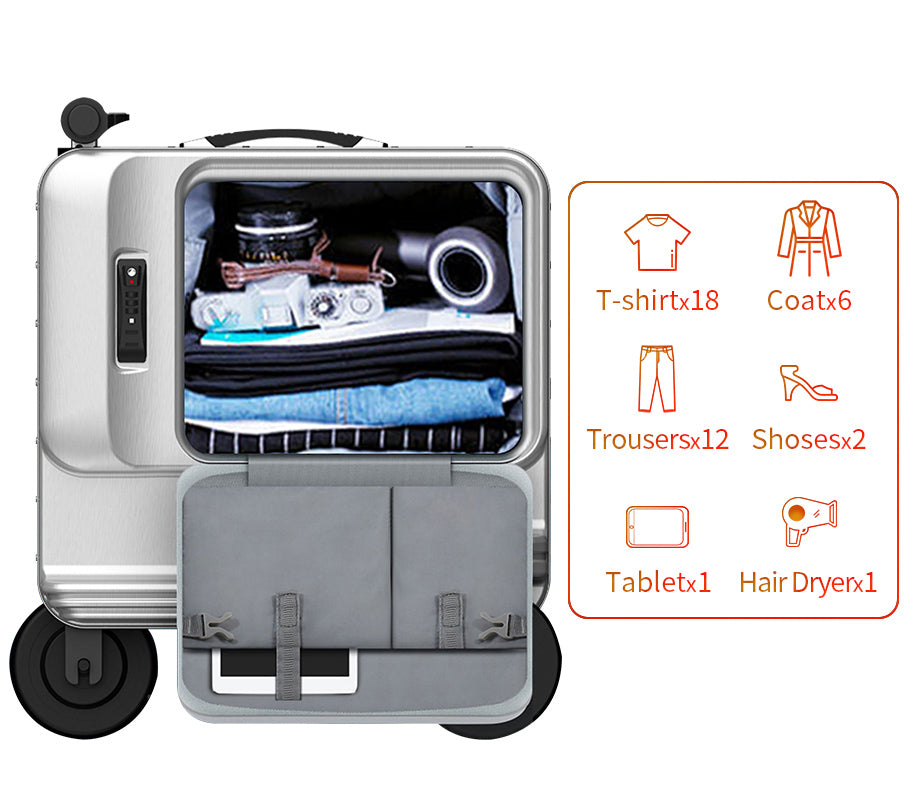 Maximize Your Travel with 48L Capacity
The Airwheel SE3T Rideable Smart Suitcase is designed to optimize your storage space, with a 24-inch cabinet that can accommodate up to 48 liters of your travel essentials. With this increased capacity, you can fit everything you need for a comfortable and stress-free trip, without having to worry about carrying multiple bags.
Additionally, the side unpacking partition and side open design make it more convenient to access and pack your items.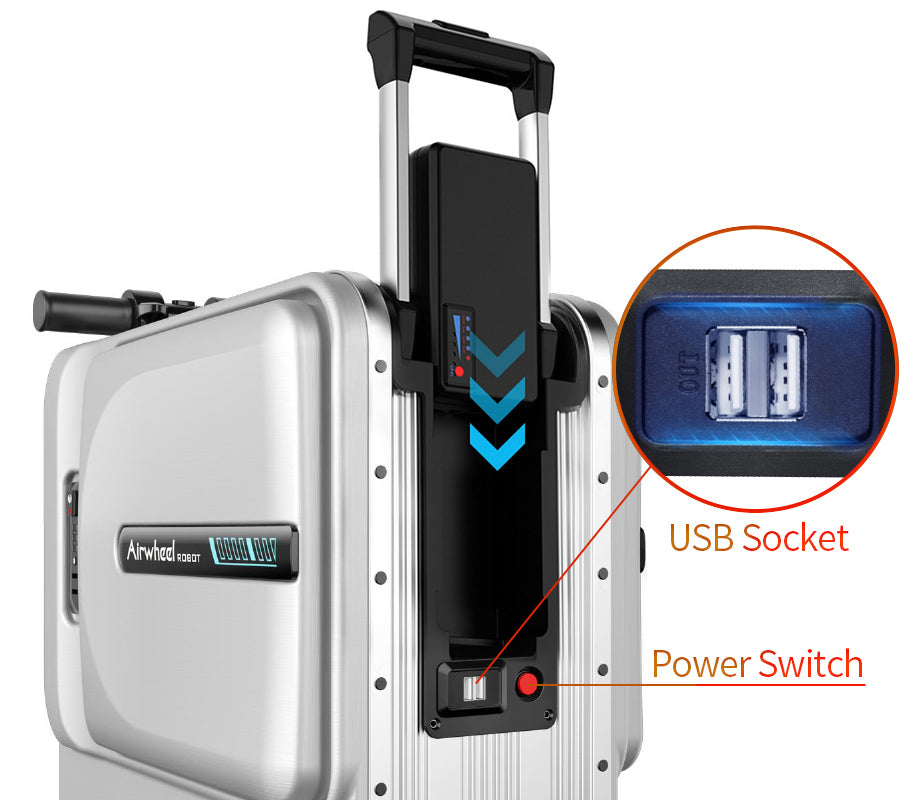 Pack and Charge Anywhere with A Removable Battery
The SE3T rideable suitcase is the perfect travel companion for frequent flyers. With a removable lithium battery, you can easily pass security checks and take the battery with you on the plane. Plus, the battery doubles as a portable power supply to charge your devices on the go.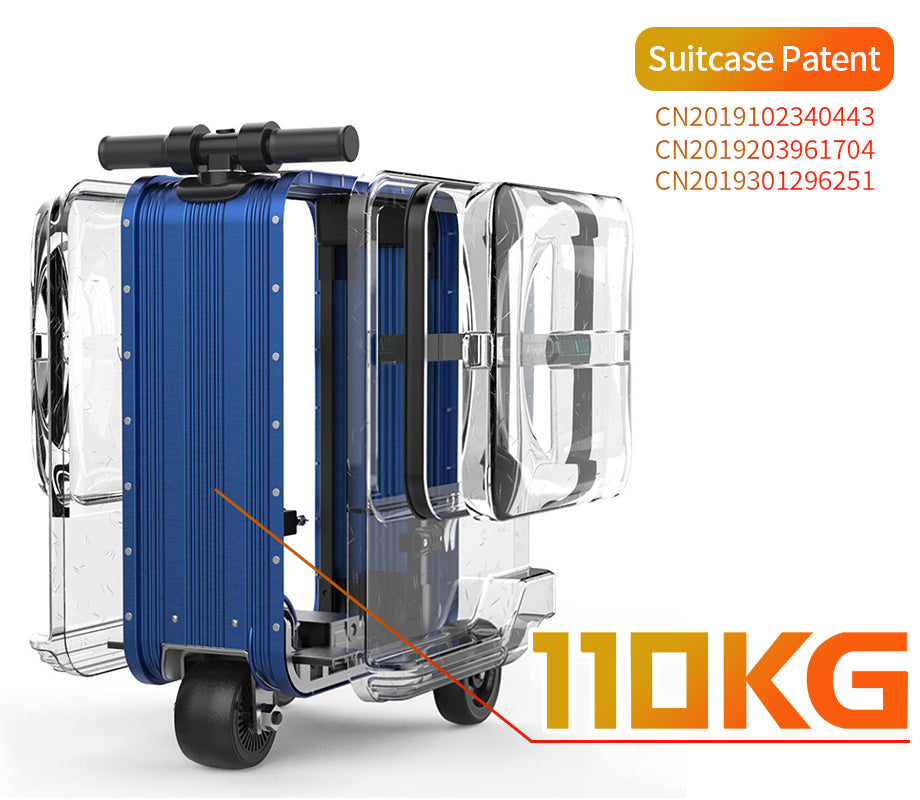 Durable and Waterproof Construction
The Airwheel SE3T electric luggage is not just a regular hard shell suitcase, it's a heavy-duty travel companion that can handle up to 110kg of load. Its exceptional construction is a result of using 6 series aluminum alloy material and Super PC Film, which is a high-quality ABS material that gives it incredible strength and durability. Thanks to this advanced construction, the SE3T is both waterproof and wear-resistant, and it's not easy to deform or dent. You can rest assured that your belongings will remain safe and secure while traveling.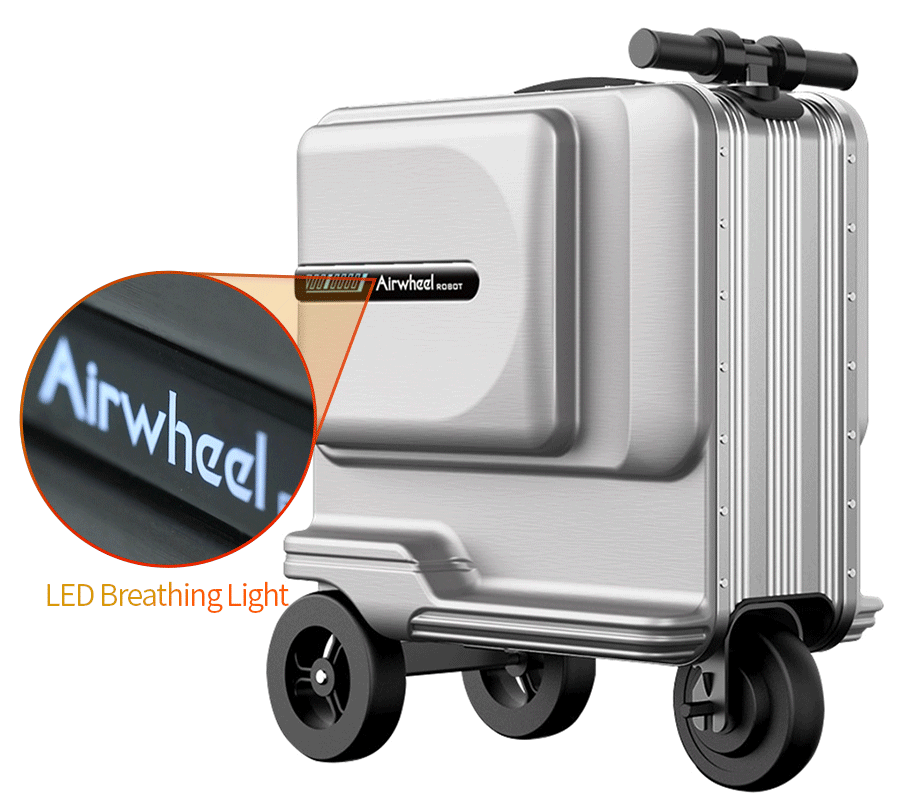 Intelligent Lighting System
The smart luggage breathing light on the Airwheel SE3T electric suitcase plays a crucial role in ensuring your luggage is easily visible and identifiable. This feature is designed to solve the issue of lost or misplaced luggage at airports. The breathing light illuminates the suitcase, making it easy to locate in a crowded baggage claim area. Additionally, the light can be customized to display our logo image, adding a unique touch to your travel experience.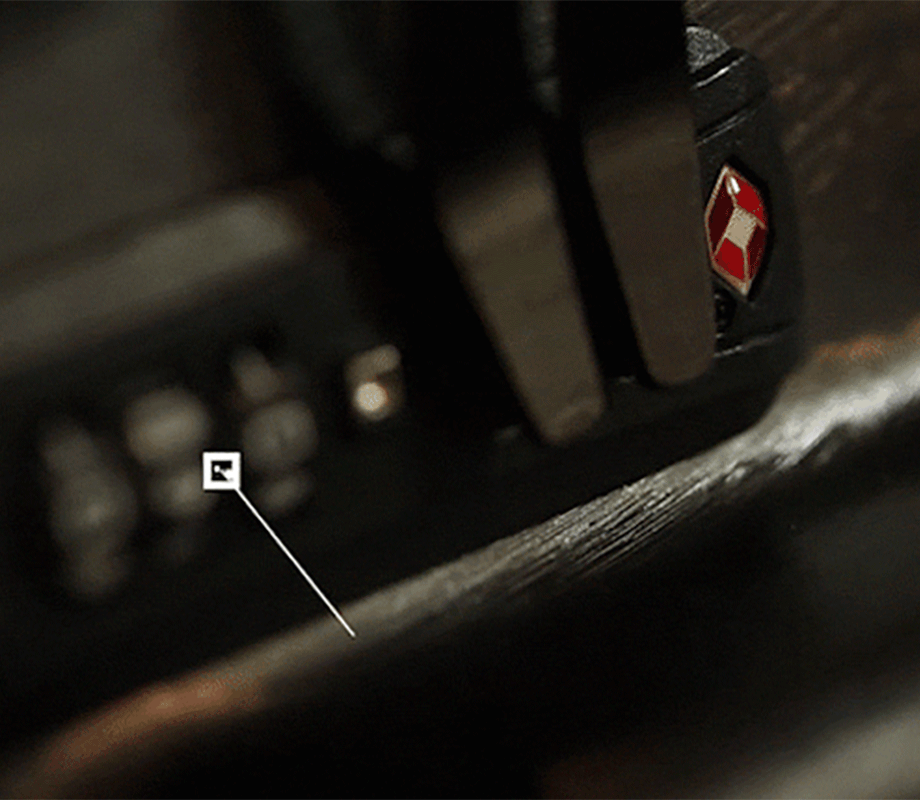 TSA Customs Locks for Luggage Security
TSA customs locks are specially designed locks that offer several advantages when it comes to securing your luggage during travel. It allows the Transportation Security Administration (TSA) agents to open and inspect your luggage without damaging the lock. Additionally, TSA customs locks provide peace of mind to travelers by preventing unauthorized access to their luggage, reducing the risk of theft or tampering.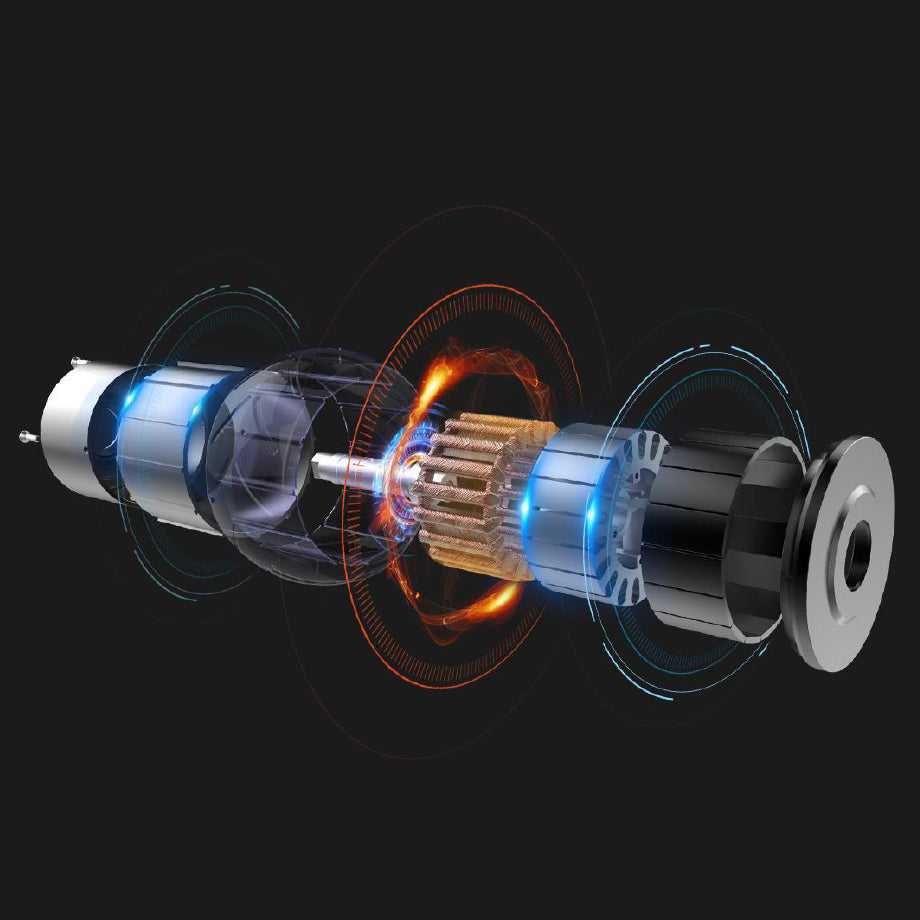 Efficient Brushless Hub Motor for Electric Scooter with High Speed Performance
The Airwheel SE3T rideable smart luggage is equipped with a brushless and sensorless hub motor that operates on low energy and runs at a constant speed, allowing you to enjoy a smooth and comfortable ride. The motor has a superior performance compared to ordinary motors, as it produces less friction while running, providing a noiseless and seamless experience. With a top speed of 13 km/h, you can easily navigate through busy airports and other crowded areas without breaking a sweat.